7+ Cool Wooden Dog Beds & Crate Furniture for Australians
If you've come across this article, I probably won't have to bring up how hard it can be to find good-looking, wooden dog beds and crate furniture in Australia. I mean, after all we're the country of overpriced ugly wire crates – am I right?
So, I've done the research, and in this article I'll share with you some of the coolest wooden dog beds and crate furniture pieces I've found that you can buy online.
I'll start with Aussie options and then also show you some unique designs from overseas that can be shipped to Australia.
Australian options for wooden dog beds and crate furniture
Below are two great options for Australian-based businesses that sell wooden dog beds and dog crate furniture.
Hand-made Custom Wooden Dog Crate Furniture (Toowoomba, Queensland)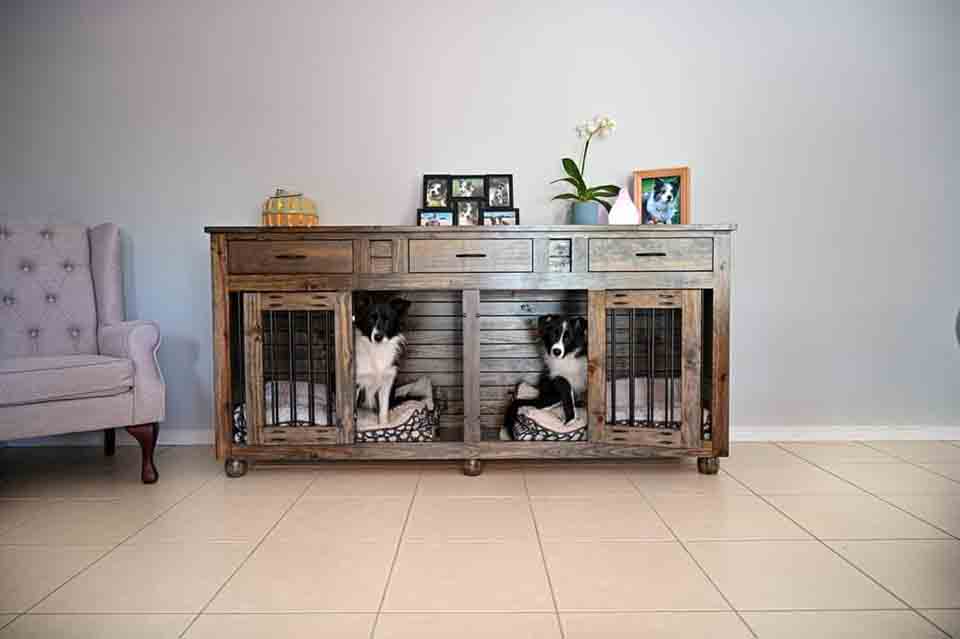 Unique by Timmy is based in Queensland and hand-crafts a wide range of custom-built wooden dog crate furniture.
Starting from $450, every cabinet is 100% uniquely built to your specifications, and you are in full control of your build, from size to style.
Visit their website to check out Unique by Timmy's many builds in the gallery.
Industrial Style Timber Wooden Dog Bed (Melbourne, Victoria)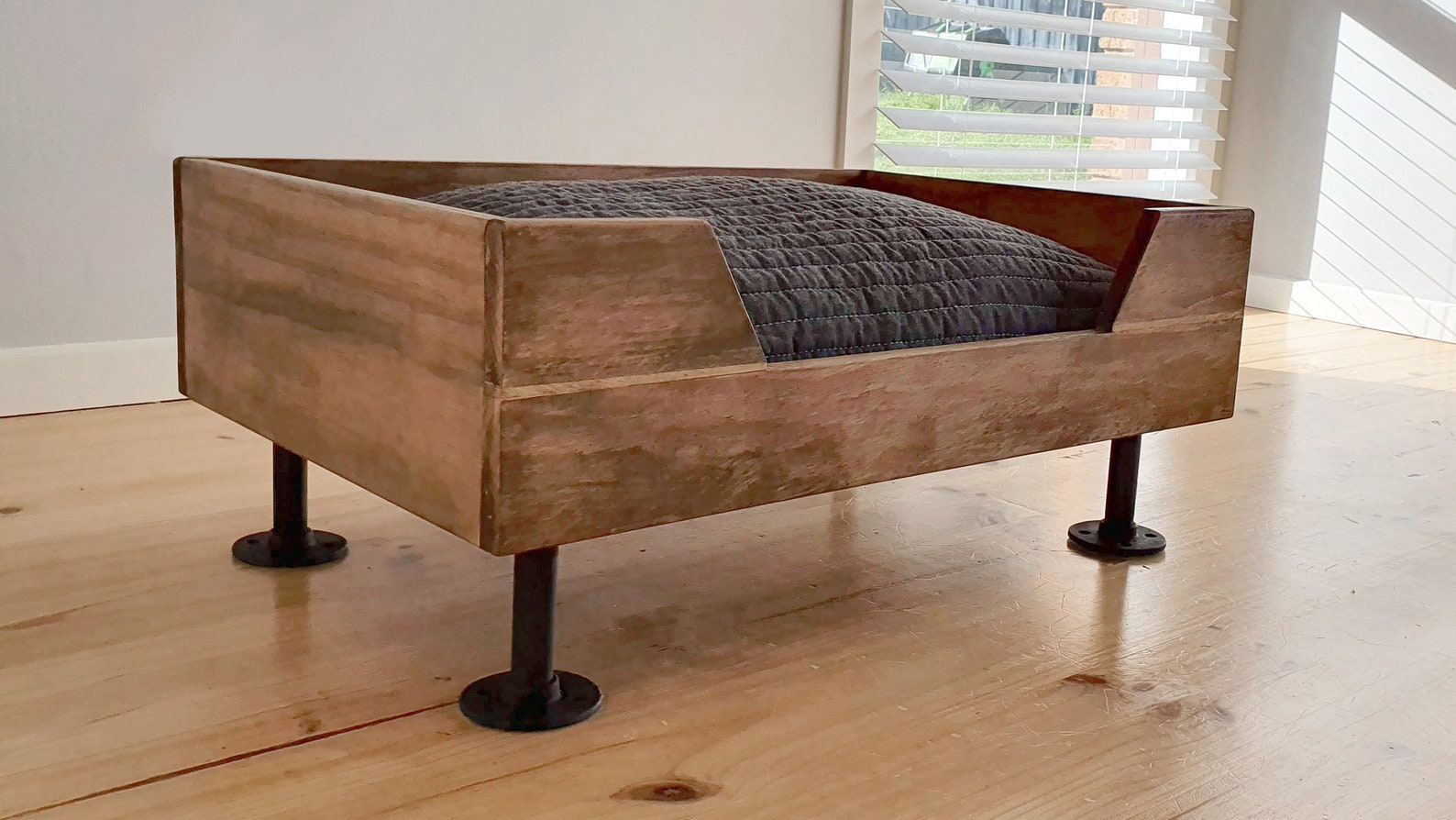 This stylish modern timber dog bed will look great in every home. It's available in multiple sizes and can be left as natural pine colour or stained in a choice of different stains. From $378 | Ships from Victoria.
International options for wooden dog beds and crate furniture
If you don't mind ordering from overseas, check out Etsy for lots of different styles of wooden dog beds and crate furniture. We've listed our absolute favourite designs below.
Here's a link to Etsy with a filter to show all available wooden dog beds that ship to Australia.
Wooden Dog House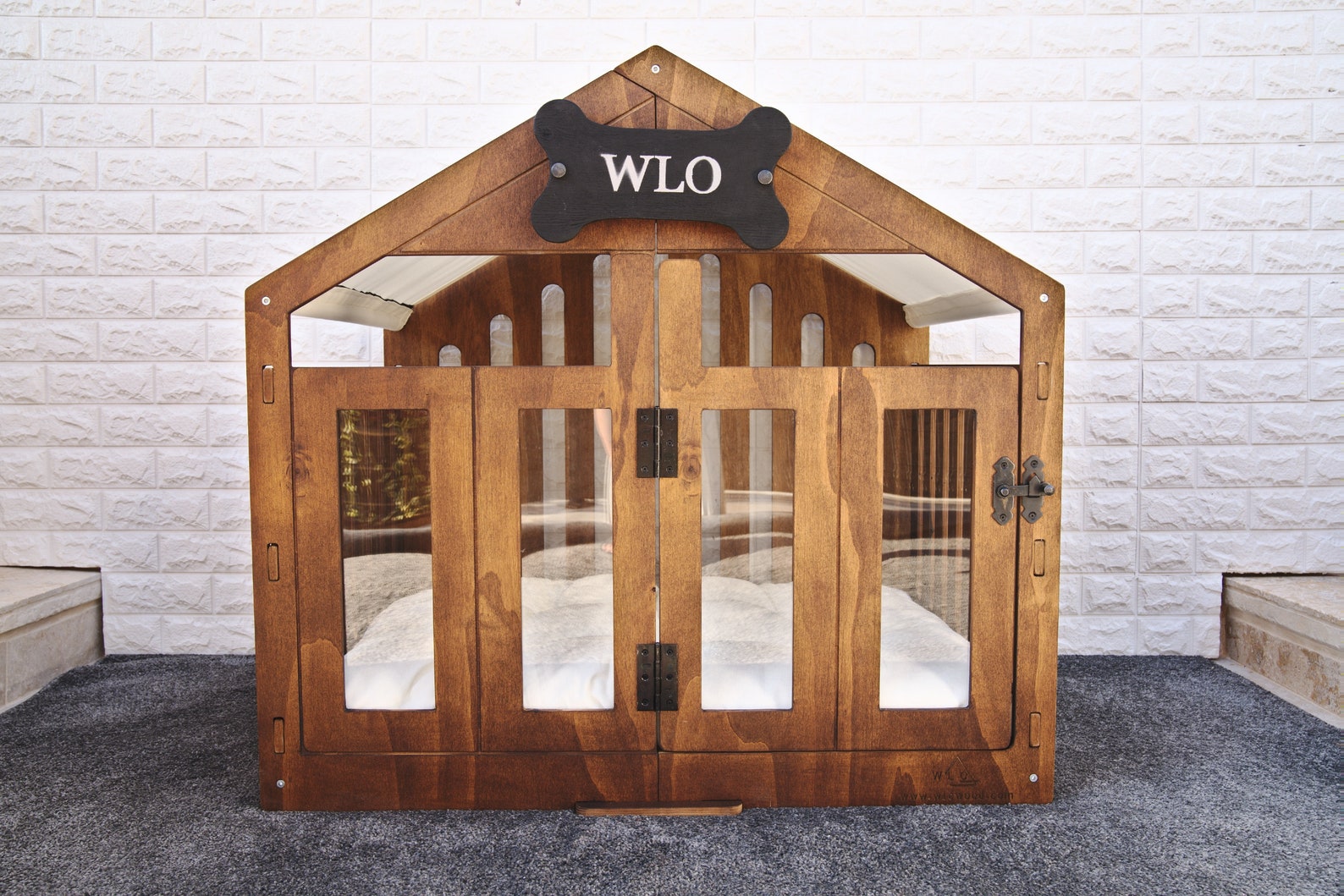 This beautiful wooden dog house can be personalised and includes a comfortable cushion made from non-toxic materials.
It's designed as an alternative to metal crates, and the quality and customer satisfaction has been approved with 1,000+ 5 star reviews.
DIY Wooden Dog Crate Kennel Furniture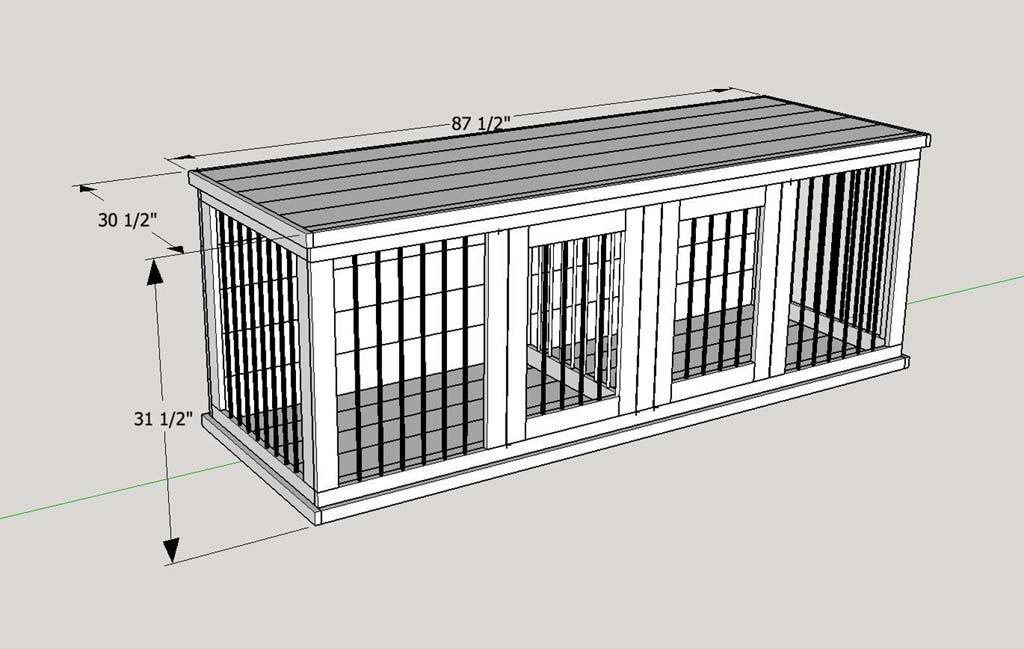 Make your own wooden dog kennel with one of these instant download plans (different sizes and styles available, prices start at $7.73).
Wooden Indoor Dog Bed Furniture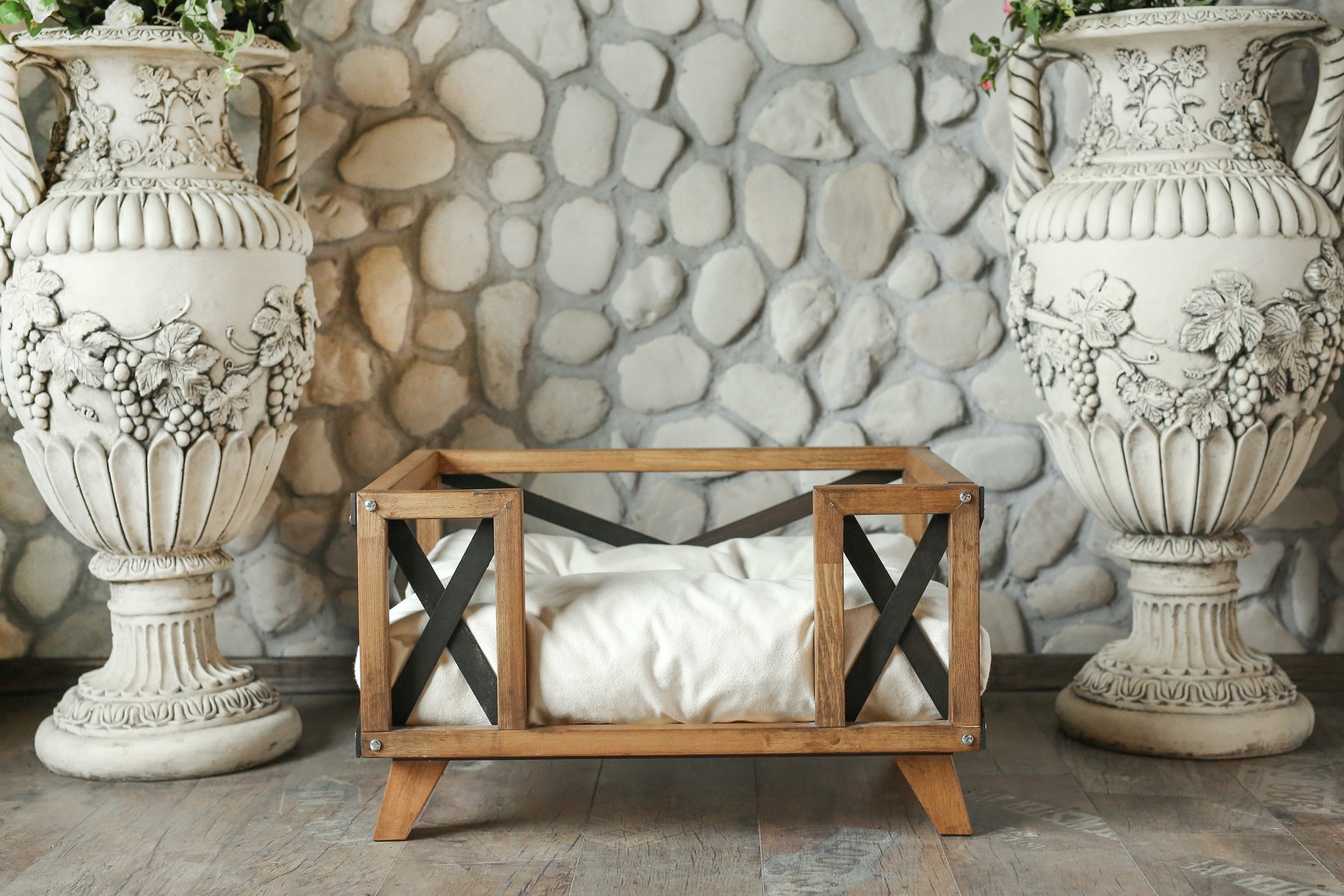 This wood dog bed is available in small, medium, and large. You can choose from 4 different main frame colours and the beautiful pillow you see in the picture is included as well.
It's hand-made in Turkey and prices start at $221 plus shipping.
Olive Dog Lounge Bed with Wooden Frame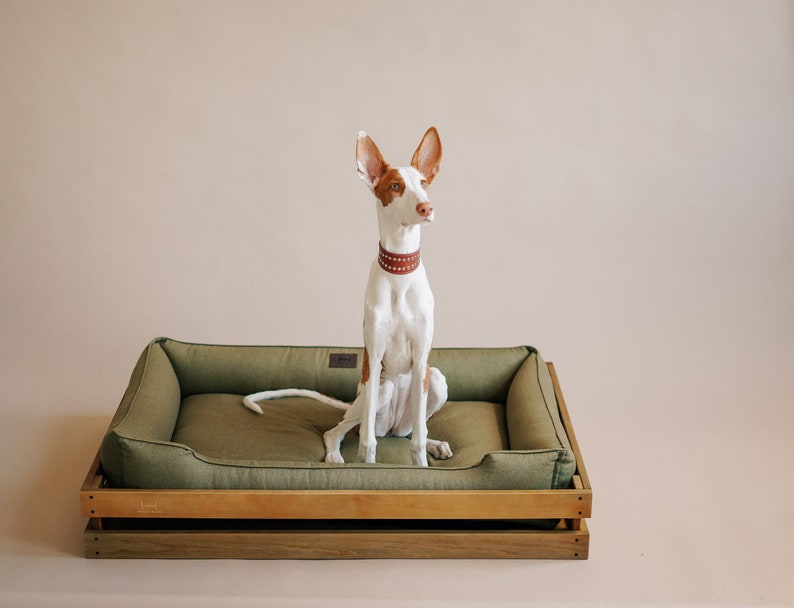 Here's a unique and comfortable dog bed with wooden frame that can be personalised to include your dog's name.
Available from $168 plus shipping.
Wooden Dog Bed
This cute, hand-made wooden dog bed with removable mattress ships from Moldavia and can be purchased for $127 plus shipping.
Wooden Dog Bed with matching Feeding Station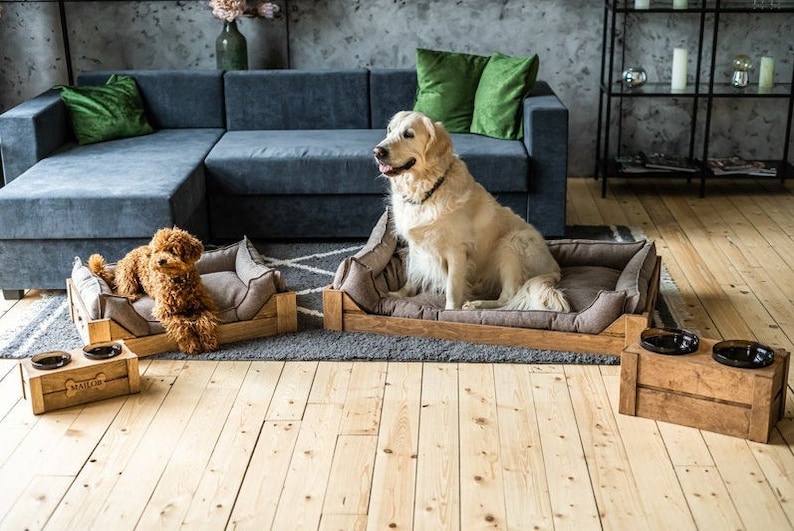 This awesome set of a matching dog bed and wooden feeding station is available in sizes XS (for miniature dog breeds) – XXL (largest dog breeds) to guarantee a great fit for all dogs. The high-quality plywood can be personalised to include your dog's name.
The set ships from Moldavia and is available from $202 plus shipping.
Didn't find what you're looking for?
Decision paralysis. We get it. Here are some further considerations that may be helpful to you:
DIY Dog Beds
You can make your own wooden dog bed with this step-by-step tutorial from Bunnings: How to make a DIY dog bed
2. Gumtree & Facebook Marketplace
You might get lucky and find hand-made timber dog beds and wooden crates in your local area.
3. Rattan Dog beds
If you like the style of wooden dog beds, you could also like the style of rattan dog beds.