5+ Cozy Dog Cave Beds For Australians
If your dog naturally likes to burrow or often sleeps under blankets, they might appreciate a dog cave bed. That said, if you have the type of dog who prefers to sleep on the cold tiles next to the dog bed, you may want to think twice about splurging on a dog cave bed as there's no guarantee that your dog will use it.
If a dog likes a cave bed or not is completely up to individual preference, with some breeds leaning more towards burrowing for comfort than others (think small-prey hunters like dachshunds and terriers).
In this article, I'll show you some cozy dog cave beds that are shipped from within Australia, as well as some popular products from overseas. Let's get right into it 🙂 
Table of Contents
Dog Cave Beds – Shipped from Australia
In order to support the Australian economy, reduce shipping costs and shipping times, we always seek out products that are shipped from within Australia first.
Below are some different options for cozy dog cave beds that are shipped from Australia. If you think we missed a product that should be recommended here, please let us know. 
Hand-made | QLD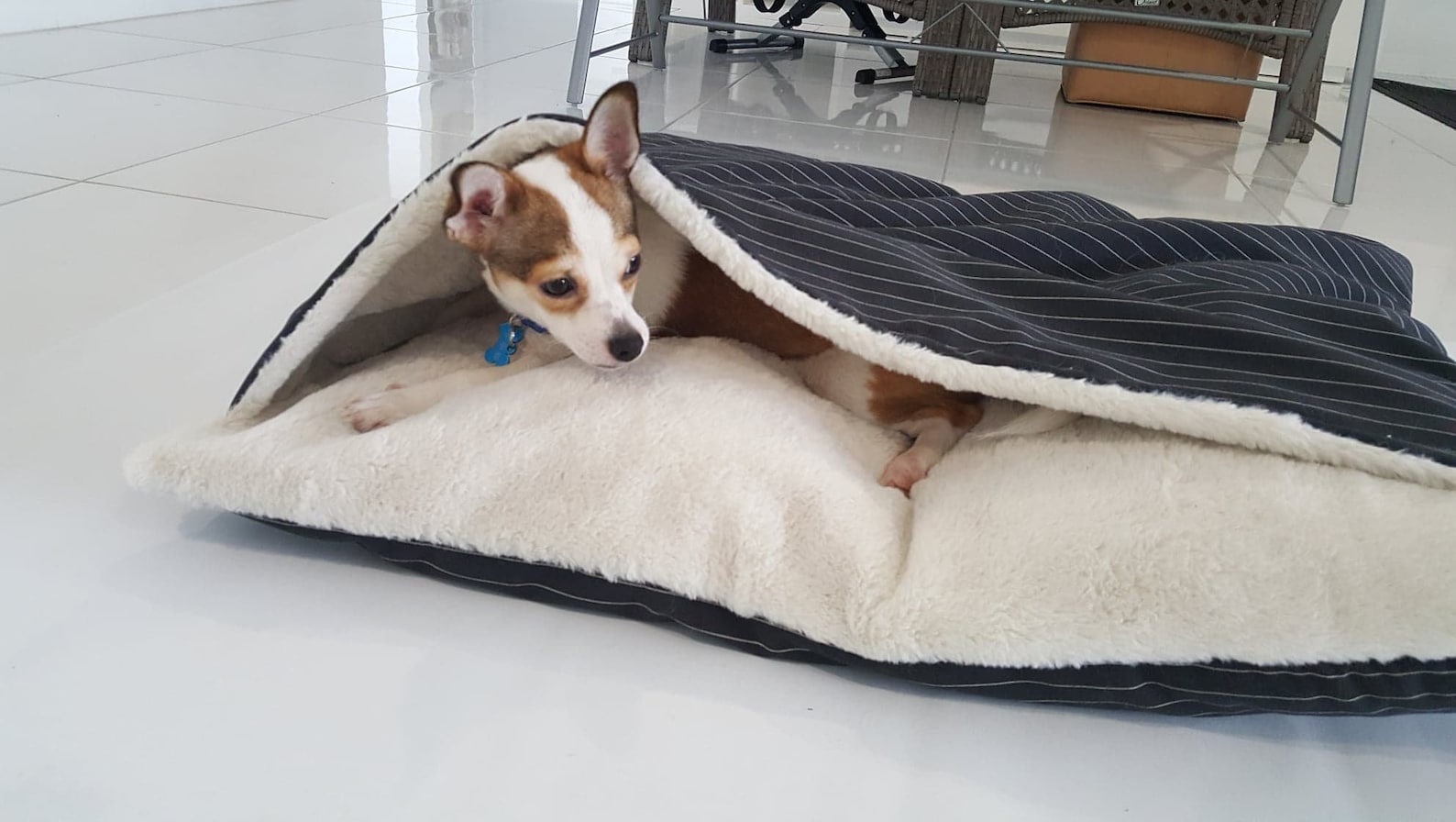 Explore dozens of different cozy dog cave beds, hand-made in Queensland.
Large dog cave bed
This comfortable dog cave bed is a good fit for medium-large dog breeds, such as an Australian shepherd.
Charlie's Faux Fur Bed
Shaped like a doughnut to keep your dog warm, this snuggly bed is super soft and has a non-slip bottom.
Dog Calming Bed
Not a cave bed per se but great for nesting and snuggling!
Dog Cave Beds – Popular Overseas
Popular dog cave beds from overseas that ship to Australia include:
Snoozer Luxury Dog Cave. At the time of writing this article, the shipping cost was very reasonable (under $10), however, you're looking at a delivery time of two months through Amazon. All Australian retailers have been sold out at the time of writing.
Soft Tent Cave. Unlike other dog tents, this one is made of a soft material, so you can use it as is or you can add an extra blanket for your dog to snuggle up. Delivery time is reasonable however shipping cost will cost you more than the product.
Shark Cave Bed. Good for a laugh, the shipping cost for this product is less than $10, but expect to wait a good 6-8 weeks for it.