5+ Cozy Dog Cave Beds For Australians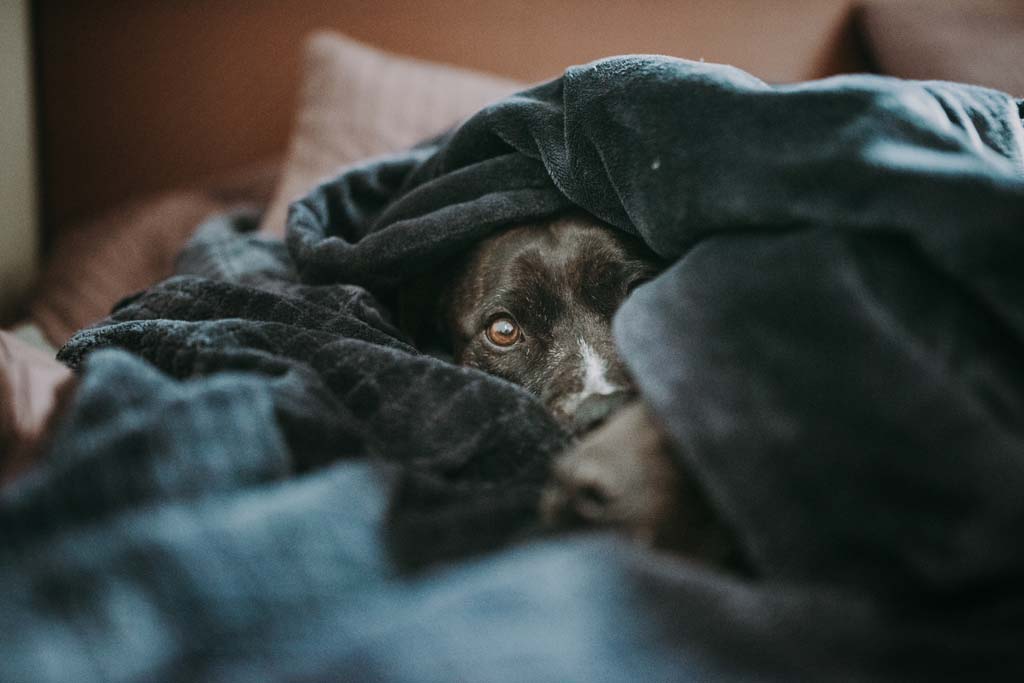 If your dog naturally likes to burrow or often sleeps under blankets, they might appreciate a dog cave bed. That said, if you have the type of dog who prefers to sleep on the cold tiles next to the dog bed, you may want to think twice about splurging on a dog cave bed as there's no guarantee that your dog will use it.
If a dog likes a cave bed or not is completely up to individual preference, with some breeds leaning more towards burrowing for comfort than others (think small-prey hunters like dachshunds and terriers).
In this article, we'll learn more about different types of cave dog beds, and where you can get one if you live in Australia. Let's get right into it 🙂 
Table of Contents
What is a Dog Cave Bed?
Dog cave beds are cozy, soft dog beds that are uniquely designed for dogs who love to feel enveloped. In other words, they're a snuggly, hooded dog bed. Sometimes also called cocoon dog bed.
In particular, they're great for:
Anxious dogs (their design can help your dog feel safe), and
Dogs who get cold easily (their design can help keep your dog warm)
So, lots of whippets, greyhounds, vizslas, and dachshunds love their cave bed. But also lots of other breeds of all sizes enjoy a snuggly cocoon dog bed, there are no set in stone rules.
Do Dogs Like Cave Beds?
Not all dogs will like cave beds, but the ones who do will love them.
Unfortunately there's no way to know for sure if your dog will like a cave bed until they had a chance to try it. But if your dog is the type of dog who always prefers to rest on cold tiles rather than their warm dog bed, it may be an indicator that they won't care much for a cave bed.
Where to Buy Dog Cave Beds
We rarely see dog cave beds in retail pet shops, so here are some great cave beds that you can buy online.
Hand-made Dog Cave Beds from Queensland
Barbara from Happys Doggy Beds makes beautiful dog cave beds in Cairns, Queensland.
With 250+ sales and lots of 5 star reviews, it's safe to say that many dogs have loved their new Australian-made dog cave bed.
Available in lots of different styles and sizes, these beds are great for Dachshunds, Whippets, Vizlas, and all other dogs who love nesting under blankets.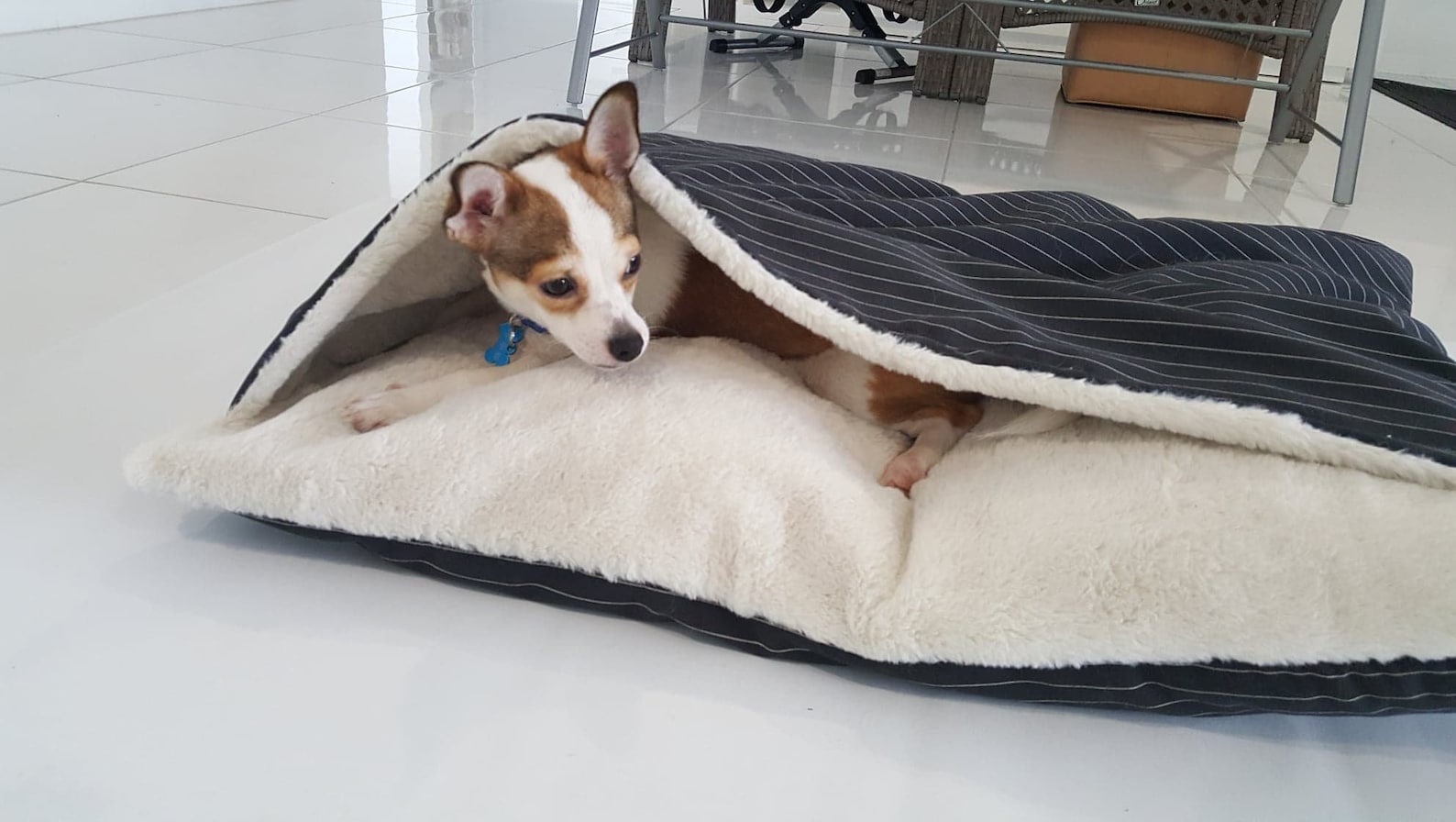 Large Dog Cave Bed
Furhaven's Orthopaedic Snuggery dog cave beds have a 4.5 star rating from 50,000+ international reviews.
The beds are available in sizes up to JUMBO PLUS!
So, for big dog owners, this means that the beds are available in:
Large
Giant
Jumbo, and
Jumbo Plus
The large dog cave bed is also available in smaller sizes, but it's often difficult to find really big dog beds, so it's great to know that Furhaven's Dog Cave Bed caters to extra large dogs too!
Charlie's Faux Fur Medium Dog Cave Bed
Shaped like a doughnut to keep your dog warm, this snuggly bed is super soft and has a non-slip bottom.
Dog Calming Bed
Calming dog beds are designed differently from dog cave beds, but many dogs absolutely love them because they're super soft and great for snuggling.
Cave Dog Beds – Popular Overseas
Couldn't find what you're looking for in Australia? Here are some beautiful dog cave beds that ship to Australia from overseas.
Luxury Dog Cave Bed from Germany
Lots of beautiful styles available in sizes up to XXXL. Beds start at $149 plus shipping.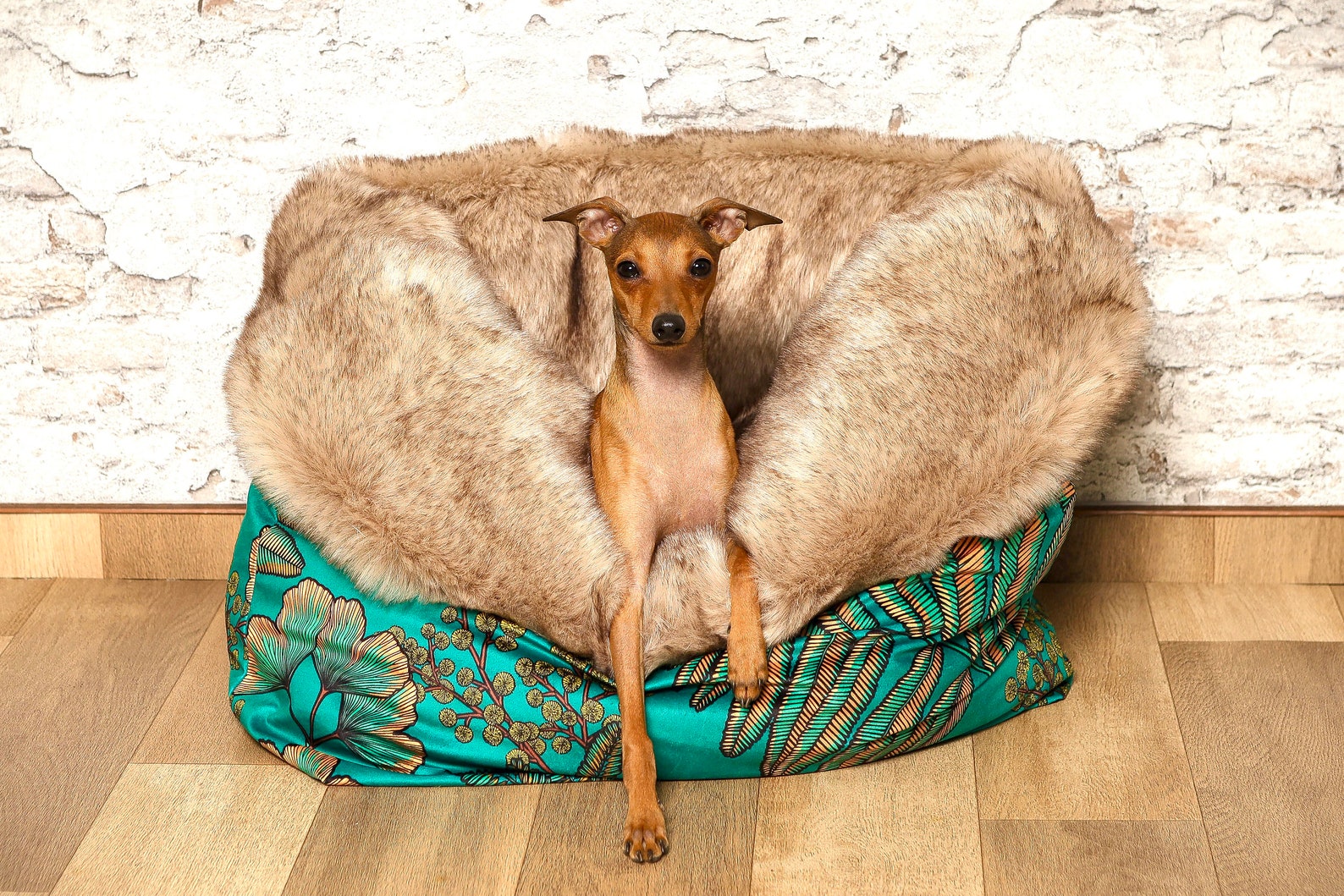 Faux Fur Dog Cave Bed from Ukraine
Available in sizes S, M, and L. From $121 plus shipping.