Where to find Dog Beaches near Brisbane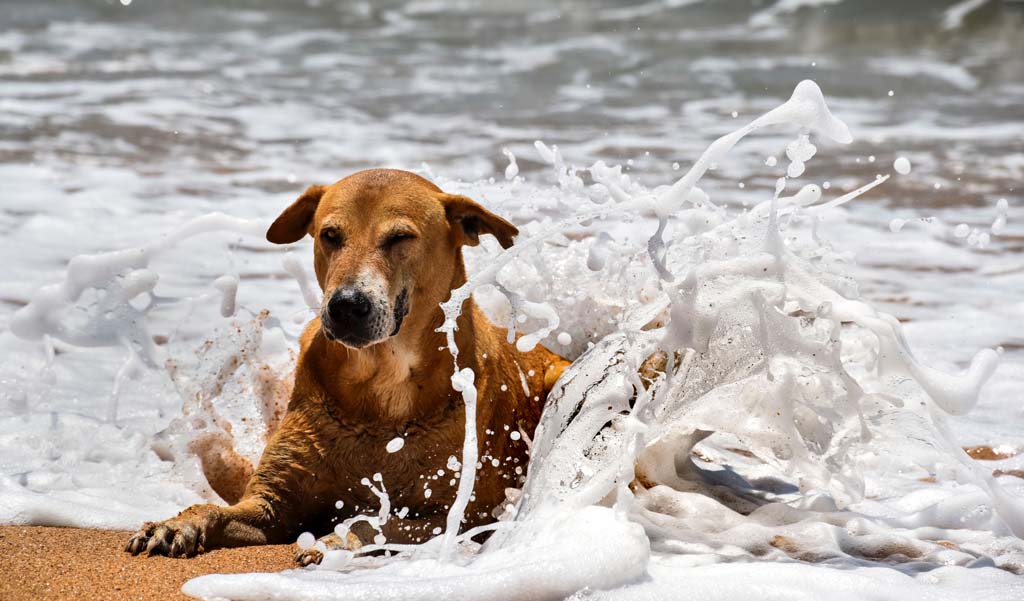 Who doesn't love trip to the beach, especially when you can bring your dog and live in beautiful Queensland? It's the perfect opportunity to get fresh air and soak up a bit of Vitamin D while your friendly dog can run around off leash on a dog beach.
They're basically heaven of earth for both us and our dogs. In this article, we'll have a closer look at some of the many great off-leash dog beaches that are easy to get to from Brisbane.
Now, before we got to the details, let's do safety first:
Be SunSmart: If you're heading to a beach on a sunny day and you know there won't be much shade, consider bringing an umbrella if you plan on staying for a long period of time. Also don't forget the usuals, such as your hat, sunnies and suncream
Always supervise your dog, and bring plenty of fresh water for your dog to prevent him from drinking ocean water
You can use the map below to get a better sense of where the dog-friendly beaches around Brisbane are, and if you keep reading we'll share some more details about them too. So, without further ado, here are the dog beaches you need to visit.
Dog Beaches around Brisbane
Raby Bay Dog Beach
Located in Cleveland and just a 30-minute drive from the CBD you'll find Raby Bay Dog Beach.
This place is a dream come true with proper sand, lots of parking, nice seating areas, a fresh water tap, and a dog-friendly cafe just down the road. Because of that, it can get quite busy sometimes, especially on weekends and public holidays. So, if crowds aren't your thing, try to go early in the morning. Note that there is no fencing but the dog beach is separated from the human beach (can we call it human beach?) by stones. 
Ninjas Dog Beach Strip
This dog beach is just a 30-minute drive away from the CBD too, but in the other direction (up north, Raby Dog Beach is a drive down south). Note that this is an on-leash dog beach (yes, that's a thing too), which basically means that while dogs are welcome, they have to remain leashed both in and out of the water. If that doesn't bother you, Ninjas Dog Beach Strip is a great place to take your dog for either a leashed swim during high tide, or a jog/walk on the sand during low tide. Public toilets and shops can be found across the road too!
Nudgee Beach Dog Park
Like the name suggests, this is a dog park right by the water. It's off-leash and includes a well fitted out obstacle course for dogs of most sizes. You'll find the Nudgee Beach Dog Park just about 20-30 minutes up north from the CBD, so pretty close to the Ninjas Dog Beach Strip if you're keen to explore a few different dog-friendly beaches on the same day. There's usually enough parking available and you often find a dog wash and a coffee place set up on the weekend.
Dog Beach Part of Red Beach
We're now getting a bit further away from the CBD, with the Dog Beach part of Red Beach which is about an hour and a half north of the city. This is a clean, sandy beach and the off-leash area is quite a long stretch. While there are many parking spots available, this beach is quite popular and can get busy despite its size, especially on weekends.
Deception Bay Dog Beach
Located in Deception Bay, which is about 50-minutes north of Brisbane, this dog beach is huge with lots of space to stay away from the crowds. Especially during low tides, there's heaps of space to roam around. One quick tip, there's a coffee place on the boardwalk and some picnic areas you can take advantage of too!
Beachmere Off-Leash Dog Beach
A bit of a drive from Brisbane, this beach is about an hour up north and known for its great walking track along the beach. There are typically no big waves, and you'll find toilets, seating areas, fresh water drinking fountains, shade, a BBQ area and plenty of shade.
Kendron Brook – Dog Beach
Had to sneak this one in even though it's not really a beach per se as it's not by the ocean. Soooo… while you may not get those beachy-vibes, the huge benefit is that it's basically still in Brissy – just a 20-minute drive from the CBD. In simple terms, it's a riverside walk with an off-leash area with heaps of open grass to run around and play, as well as access to the water. Check it out sometime!
So there you have it, the definitive list of dog-friendly beaches in Brisbane. Let us know how you go and if we missed any. We love hearing about all the many great things you get up to with your dogs! You might also like this article about some of the best dog-friendly cafes in Brisbane.