Dog Puzzle Toys: Which One Is Right For You?
Dog puzzle toys are often mentioned alongside how to keep your dog entertained while at work.
The truth is that puzzle toys won't keep your dog entertained for very long, and puzzles can be a safety (choking) hazard for some dogs.
So as a rule of thumb, when it comes to puzzle toys, it's best for you to be present when your dog plays with them.
They're designed to tap into your dog's natural instinct to hunt and forage for food, therefore providing a mental stimulation activity for your dog.
This means that if you let your dog have a supervised play with a puzzle toy before you go to work, your dog will still reap the benefits.
What are dog puzzles good for?
A dog's natural instinct is to hunt and forage for food, and dog puzzle toys tap into that instinct.
They can provide an outlet for your dog's mental energy, therefore adding to a balanced lifestyle for your pup where they get both physical and mental enrichment.
Are puzzle games good for dogs?
If dog puzzles are worth it will depend on your individual dog.
Some dogs like them, some dogs don't care for them, and a few dogs will be too smart for even the most challenging puzzle toys.
We found that many dog & owner duos who didn't warm up to puzzle games enjoy playing hide & seek games instead.
Hide & seek games can be as simple as hiding treats in your living room while your dog waits somewhere else, and then letting your dog explore & sniff out the treats.
Or alternatively the treats can be put inside a snuffle mat.
Dog puzzle toys for puppies
Puzzle games come in many different variations and difficulty levels that will encourage your puppy to work and investigate their food in the same way they would do in the wild. 
It's best to start with a puzzle toy designed for beginners, and then slowly work your way up to more advanced puzzle toys for dogs.
A popular brand for puzzle toys is Nina Ottoson. Click here to see all their puzzle games for different difficulty levels.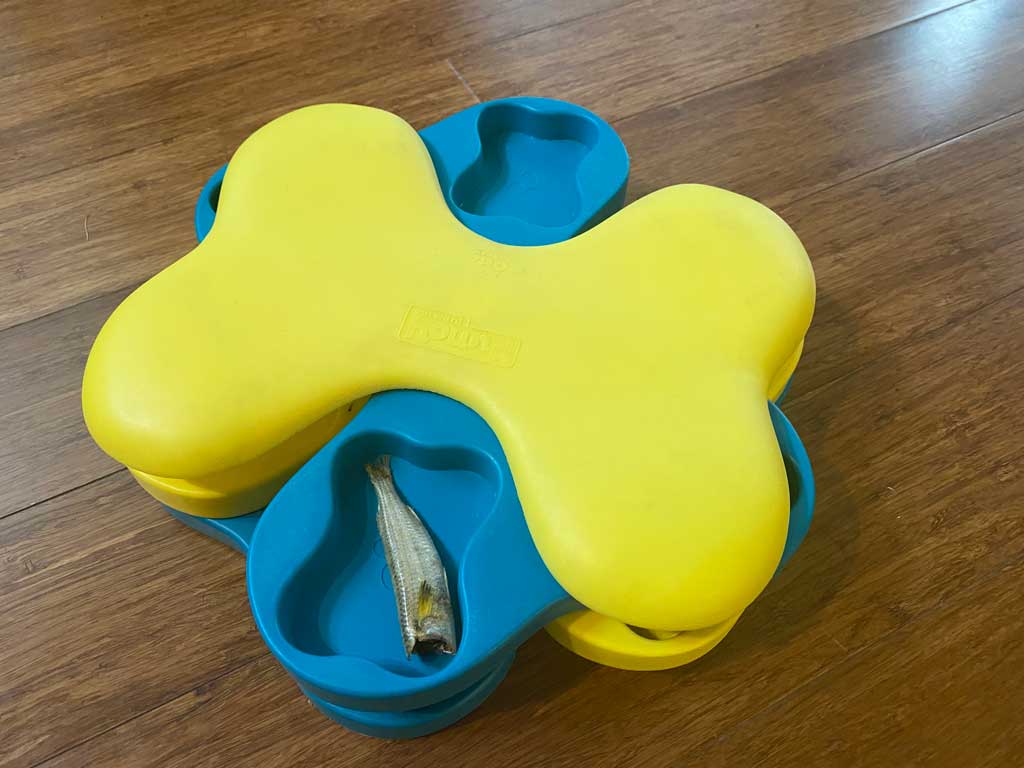 For more interactive toys for dogs check out this article: 5+ Best Interactive Dog Toys For Australians