The Best Places To Watch The Perth Sunset With Your Dog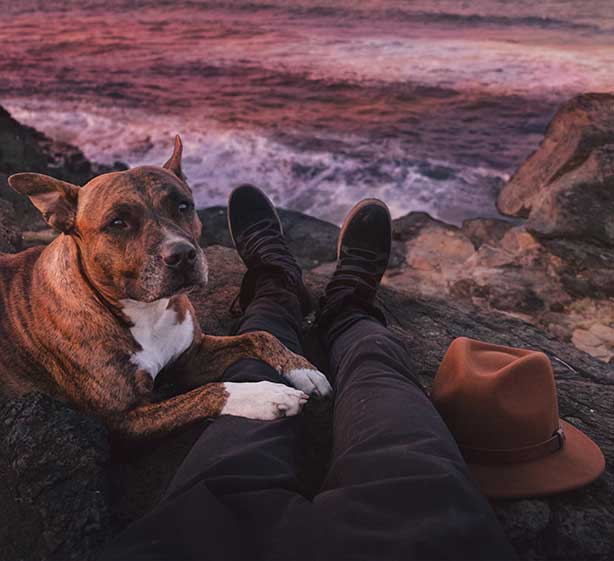 What makes living in Perth better than the Eastern States? We're spoilt for choice when it comes to beautiful spots to watch the Perth Sunset with our furry friends 🐶.
The sun goes down in the West, and Perth has all those amazing beaches close to the city, so we get the most beautiful sunsets over the ocean 🌊.
Even if we're further inland, we still have a great view of the sunsets in the fast distance, behind the Perth skyline 🌇. So without further ado, here's our list of the best places to watch the Perth Sunset with your dog. 
Table of Contents
Peasholm Dog Beach
Peasholm is a great dog beach, right between City Beach and Scarborough. There's parking (although it can get busy sometimes), showers for humans and hoses to rinse of the dogs. It's a cool stretch of beach that invites for a relaxing walk as the sun sets next to you 🙂
Mosman Dog Beach
We don't want to sound redundant, but Mosman Dog Beach is also a fantastic beach that's fairly long and spacious with divine water. What can we say, we're just really spoilt when it comes to beaches and sunsets here in Perth.
Whitfords Dog Beach
Whitfords Dog Beach has great facilities with lots of happy and friendly dogs and people. If you're lucky, you even get to see some sweet looking horses, as they're allowed in a section of the beach.
Trigg Beach
Trigg is truly a beautiful spot to take in a sunset. It's an enclosed beach as there are rocks to either side of the beach, so it's a bit smaller than most other dog beaches. Sometimes you can see penguins hanging out on the rocks above  🙂
Bells Rapids
Head out east for an afternoon hike at Bells Rapids and watch the sunset set over the city in the fast distance from Brigadoon.
Kings Park
Did you know that dogs are welcome in most areas of Kings Park? They need to be on a leash and aren't permitted in some sections (have a look here for details), but there are still plenty of spots that make for a great sunset stroll or picnic with fantastic views!
What Are Your Favourite Perth Sunset Locations?
We LOVE hearing about all the fabulous things you get up to with your puppers in Perth. Please share them with us anytime, either through Instagram or our Contact Form. Thank you!