The Best Dog Beaches In Sydney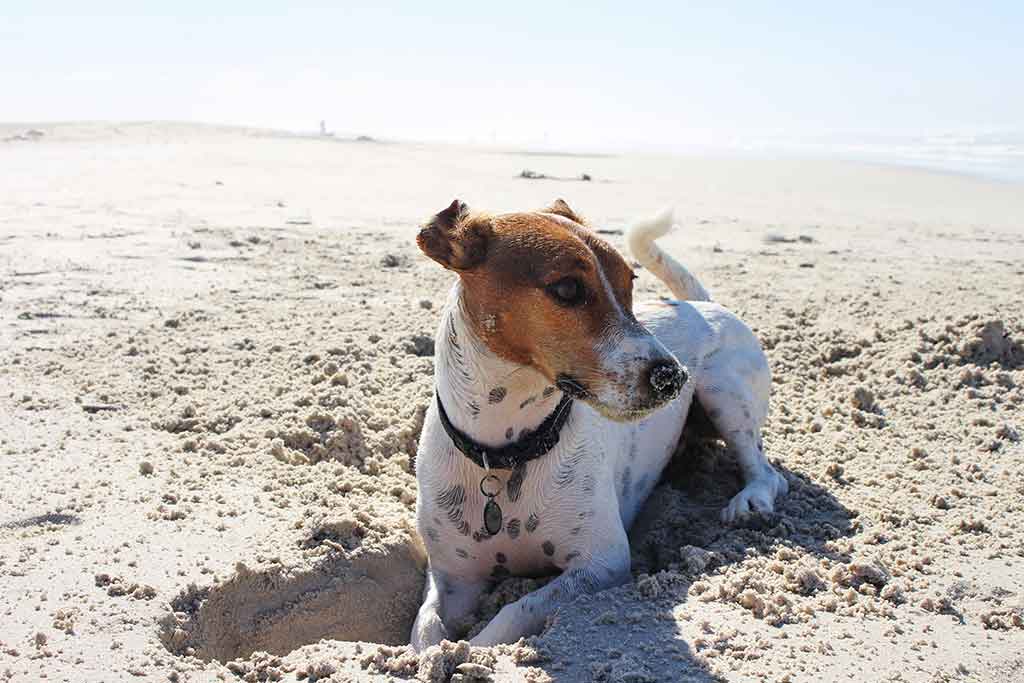 Take a stroll or relax in the sand at one of the dog beaches around Sydney. With many dog-friendly beaches along the coastline, we've gathered the top off-leash spots for you and your dog to visit during permitted times of the day. 
We have some of the most beautiful beaches in the world, so don't forget to pick up after your dog. If it's your dog's first time, make sure you don't overwhelm your dog. Until your dog is comfortable being in or near the water, visit one of the more sheltered dog beaches as big waves can be quite intimidating for many dogs. 
That said, swimming can be a great form of exercise for your dog, especially if you're dealing with arthritis or joint issues. Due to water resistance, dogs can use a wide variety of muscles without negative impact on the joints. But let's have a look at where we can find dog-friendly beaches around Sydney, shall we? 
Table of Contents
Map of dog-friendly beaches around Sydney
You can use the map below to find a dog-friendly beach in Sydney near you. Scroll down to learn more about the beaches. 
What beaches in Sydney allow dogs?
Sirius Cove Reserve in Mosman
The Sirius Cove Reserve is a nature reserve in Mosman, just west of the Taronga Zoo in Sydney's lower north shore. It's a fantastic place to take your dog with shallow water and no waves which makes it even better.
There's a little sand beach for a good run, a big batch of grass, a drinking water fountain, bbq place, and a path that connects to Taronga Zoo if you feel like going for a bit of a hike. 
Don't forget that access for dogs is restricted at the Sirius Cove Reserve. You can let your well-behaved dog explore off-leash all-day from Monday to Friday. On weekends and public holidays, access for dogs is restricted to non-peak hours before 9 am and after 4 pm. 
Rose Bay Beach
The Rose Bay Beach is a beautiful shallow beach with views of the harbour bridge that allows off-leash dogs at all times. There isn't much shade for cover, so if that concerns you, a great idea for a visit is to go in the late afternoon for a picnic or to watch the sunset. 
Greenhills Beach in Cronulla
The Greenhills Beach allows dogs to be off-leash before 10 am and after 4 pm on all days of the week. Note that dogs are banned at all other times, so that's between 10 am and 4 pm.
It's known to be the only dog-friendly beach in Sydney that is facing the ocean, as opposed to a bay or the harbour.
Greenhills Beach is a popular spot to socialise dogs and can get quite busy sometimes, especially on weekends, so keep that in mind if your dog gets easily overwhelmed. It's a long stretch of beach, so many enjoy going for a walk along the shore.  
Kurnell Dog Beach
This is a lovely beach with ample parking, fresh drinking water, and a toilet shed. Kurnell Dog Beach isn't known to be the longest beach, but it's still big enough to run your dog on the sand for a little while and enjoy the atmosphere.  
Bayview Dog Park
Bayview Dog Park is a great place to bring dogs with a large grassed area and access to the beach. It's a great place with shallow water for your dog to explore off the leash.
The Bayview Dog Park can get busy on weekends, especially in summer, and parking is known to be quite expensive if you don't get one of the very limited free 1 hour spots. Other than that, it's a fantastic place with lots of space for your dog to run around.  the sand for a little while and enjoy the atmosphere.  
Lagoon Reserve in Queenscliff
Despite not being right on the beach, the Lagoon Reserve in Queenscliff is a great place to let your dog go for a run on the sand and in the shallow waters of the lagoon.
There's also exercise equipment available if you feel inclined to exercise, but don't forget to watch your dog while you do. As for parking, there are free 2-hour parking available, although with limited spots. 
Frequently Asked Questions About Dogs on Sydney Beaches
There are some common questions we get asked a lot about dogs on Sydney beaches, so we'll do our best to answer them below.  
Are dogs allowed at Bondi Beach?
Dogs are not allowed at Bondi Beach and the Waverley Council asks to please respect these restrictions. There are several other places in the area where you can take your dog, learn more about them here: Waverley Council – Responsible Dog Ownership
Just a short way south of Bondi Beach in Tamarama, Marks Park is a time-limited dog off-leash area, which means that dogs can run around freely from 4.30 pm to 8.30 am daily. Click here for more details: Waverley Council – Marks Park
A short way north of Bondi Beach you'll find the Hugh Bamford Reserve in North Bondi. It's an off-leash area with no time restrictions, click here for more information: Waverley Council – Hugh Bamford Reserve
If you're looking for a place where your dog can also splash around in the water a bit, have a look at the Rose Bay Beach mentioned above 🙂  
Can dogs go to Coogee Beach?
No, dogs can not go to Coogee Beach. Dogs must be kept on a leash at all times in adjacent parks and they are prohibited from the beach, playgrounds, and food preparation areas. There is an off-leash dog park just a five-minute walk south of Coogee Beach at Trenerry Reserve, learn more here: Randwick Council 
If you're looking for a place where your dog can go into the water, the Rose Bay Beach might be your best option, which is about a 20-minute drive away from Coogee.  
Can you take dogs on the Bondi to Coogee walk?
Yes, your dog can come along on the Bondi to Coogee walk as long as he remains on a leash and won't access the beaches.  
How long is the coastal walk from Coogee to Bondi?
It takes about two hours to complete the Coogee to Bondi walk.
Is Clovelly beach dog-friendly?
No, dogs are not allowed on Clovelly beach. In fact, the only beach you can take your dogs to in the Eastern Suburbs is in Rose Bay 
Is North Curl Curl beach dog-friendly?
Dogs are not allowed on the beach but there's an off-leash dog exercise area behind the dunes at Adam Street Reserve. Click here for more information: Northern Beaches Council – North Curl Curl Beach 
Can you take dogs on Sydney ferries?
You might be able to take your dog on Sydney ferries. First of all, we need to differentiate between approved assistance animals and pet animals. Approved assistance animals are allowed on all public transport in NSW.
That said, there are different rules for pet animals, but if your dog fits in a box, basket, or another container you might be allowed to bring it on the ferry, pending approval from the crew. Learn more here: TransportNSW – Traveling with Pets 
Is Milk Beach dog-friendly?
No, dogs aren't allowed on Milk Beach, but you can take your dog to Rose Bay Beach, which is just a short 5-minute drive away. 
Looking for more dog-friendly things to do around Sydney?