Dachshund Ramps & Stairs: What You Need To Know
Image by Myriam Jessier on Unsplash
Dachshunds are awesome dogs, so we want to do everything we can to make sure they live a long and healthy life.
When it comes to dachshund ramps and stairs, they are known to prevent injuries and to help our dogs be more confident and independent.
In this article, we'll look into the most common frequently asked questions, and explore where you can buy dachshund ramps and stairs in Australia. Let's get started.
Table of Contents
What Is The Best Dachshund Ramp?
When purchasing a ramp for your dog, consider the following:
Durability, Material, and quality of the product
Any dog ramp you might get, should be able to hold your dog's weight.
Other than that, it's all personal choice and preference, in proportion to how much money you want to spend. Many ramps are either made from plastic or wood. Some are locally hand-made, others are imported from overseas.
Length
The higher up your bed or couch is, the longer your ramp needs to be, as otherwise the angle may become too steep for your dog to walk up and down.
BUT be aware that the longer your ramp is, the more space you need to set it up.
If you don't have enough space, dog stairs may be a more suitable option for you.
Dachshund Ramp For Couch Or Bed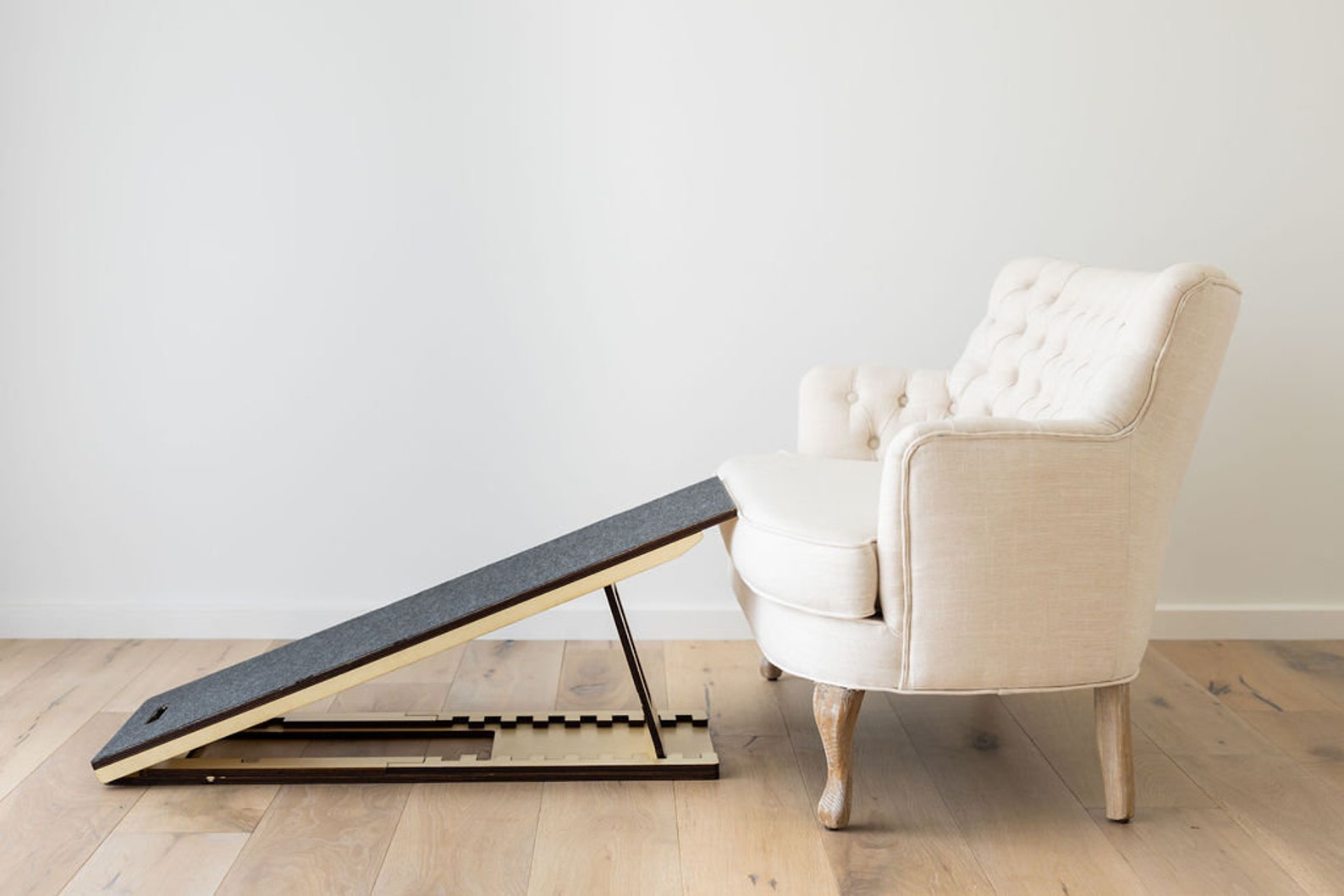 Do Dachshunds Need Ramps Or Stairs? Are They Good For Them?
No, no dachshund needs a dog ramp or steps (stairs). They don't have to be able to get on top of places more easily, like you know, our bed or the couch.
But if you like to have your sausage dog close to you, a ramp (or stairs) can help to:
Prevent injuries (for both you and the dog, because you won't be lifting your dog up as much), as well as
Make your dog more independent and confident (because they're less reliable on you to get to places)
Are Ramps Or Stairs Better For Dachshunds?
As opposed to dog ramps for other dog breeds, which are frequently used for getting in and out of cars when travelling, dachshund ramps and stairs are often used inside the home, to help your dog to get on top of the couch or bed.
So, the answer to whether stairs or ramps are better for you, mostly depends on your home and how much space you have.
That said, taking space and personal style-preference out of the equation, most dachshunds will find it easier to walk up and down a ramp, rather than steps on stairs.
Where To Buy A Dachshund Ramp Or Stairs In Australia?
Amazon.com.au for a big variety of ramps and stairs in different styles and prices
Etsy.com.au for hand-made products from independent creatives and small businesses. Set the filter to "Shop location: Australia" for Australia-only, or "Special offers: FREE delivery" for all worldwide options that include free shipping.
Gumtree and Facebook Marketplace to look for locally-made products in your area
K-Mart for possibly the cheapest option, however there's only one style available, and that one is advertised for helping larger dog breeds to get into cars
How To Make A Dachshund Ramp?
If you want to make your own dachshund ramp, there are lots of tutorials on YouTube that you may find helpful.
You might also like…
Check out our other articles that are all about Dachshunds: