5+ Types of Dog Beds: Which One Is Right For You?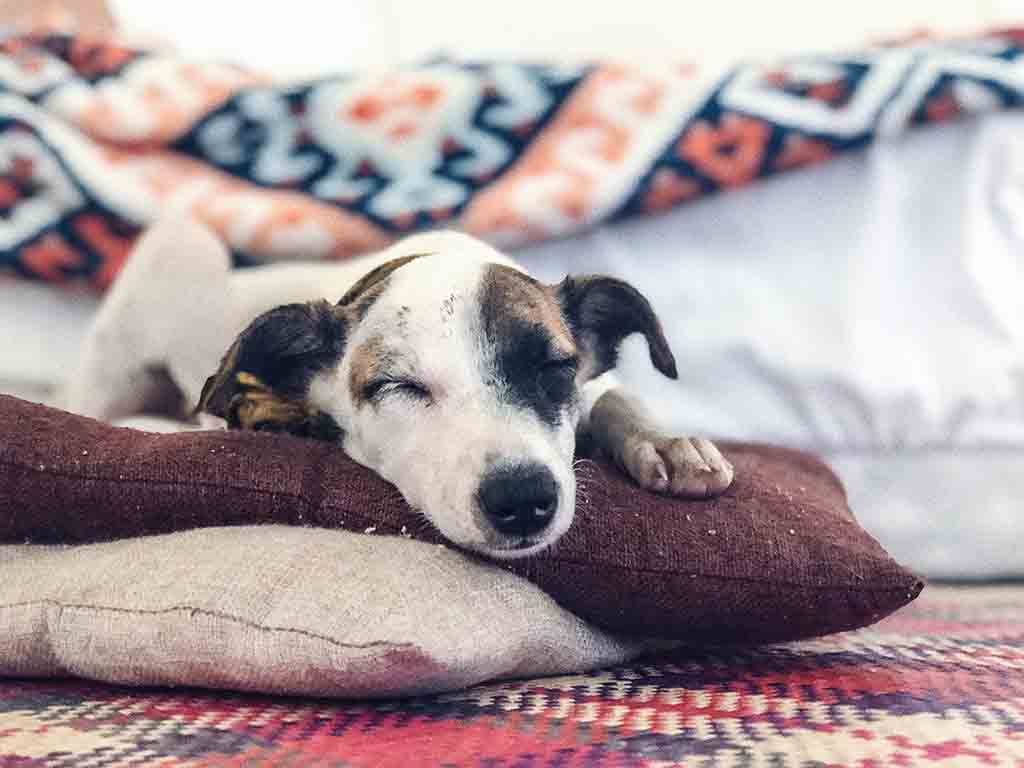 Samuel Charron on Unsplash
No matter whether it's for a good night's sleep or for a short nap throughout the day, a comfortable dog bed should not be missed in any home.
Dogs have a very pronounced need for sleep. In fact, a healthy adult dog will sleep around 14 hours a day, and spend even more time snoozing and resting.
It's important for dogs to have their own sleeping space where they can retreat to and won't be bothered by other household members if they need some quiet time.
When it comes to dog beds, there are lots of different types available these days. In this article, we'll explore some of the most common ones.
Table of Contents
What's the best dog bed?
The type of dog bed that will offer your dog the best possible sleeping comfort, will depend on a variety of different factors, with your dog's personal preferences being the biggest one.
If your dog likes to curl up when sleeping, framed dog beds with hard borders may give your dog a feeling of security (think a wooden dog bed, or a rattan dog bed).
If your dog likes to spread out however, dog pillows with no hard frames around them may be the best option.
For dogs who like to snuggle up under covers, dog cave beds are often a good fit.
If your dog is older or suffering from health conditions, special orthopaedic dog beds may help your dog in getting a restful sleep.
Then, for the dog parents who travel a lot with their fur-friends, a dog blanket may be the best choice as they're easy to transport.
How big should the dog bed be?
Dog beds come in all sizes, from extra small to extra large dog beds.
Although small breed dogs may find it easy to sleep in dog beds that are too big for them, large breed dogs can't do the same. If the bed is too small, they won't be able to stretch out fully.
To determine the correct size of the dog bed, it's best to measure your dog's length and width with a simple measuring tape.
What are dog beds made of?
Dog beds are made from a wide variety of materials and all have advantages and disadvantages.
Outer material of the dog bed
The outside of the dog bed should be robust and as easy to clean as possible. Most dog beds are made of synthetic leather, leather, nylon or other fabric on the outside.
Synthetic leather or leather are easy to clean because hair and odours do not easily stick to them.
Synthetic leather can be a little more robust than leather as leather can be more prone to scratches.
Dog beds made of nylon or other fabric are sometimes coated with a water-repellent coating to make it easier to clean them.
If they aren't coated, dog beds of nylon or other fabric are harder to clean, as they soak up liquids and hair clings more strongly. However you can normally put them in the washing machine if the cover is removable.
Inner material of the dog bed
The type of filling material is what will make a dog bed hard or soft.
Most dog beds use polyethylene, polyester fleece, foam or styrofoam for their filling material. Foam usually adapts best to the dog and is often the most recommended material.
To prevent joint problems or for dogs that already have health or age-related problems, the use of orthopaedic dog beds with special fillings is recommended.
The filling of orthopaedic dog beds usually consists of point-elastic, breathable and heat-regulating silicone or viscose foam (also known as "memory foam"). This protects your dog's joints and can prevent health problems by adapting to the shape of your dog's body.
This high-quality filling is the reason why orthopaedic dog beds are often a little more expensive than standard dog beds.
Types of dog beds
Let's take a closer look at the different types of commonly used dog beds you can get.
Orthopaedic Dog Bed
Orthopaedic mattresses aren't just trending with humans – they're becoming increasingly popular for pets too.
These type of dog beds are typically a little more expensive than other beds, but many dog owners say it is money well spent to give their pets that extra level of comfort.
4.5 star rating out of 4,900+ reviews
Available in 5 sizes (from Chihuahua to Great Dane)
Dogs love to rest their head on the pillow frame
From $39 including free shipping – Check latest price
Find more orthopaedic dog beds here: 5+ Great Orthopaedic Dog Beds For Australian Dogs
Dog Cave Beds
Dog cave beds are the perfect retreat for shy dogs and dogs who are known to enjoy cuddling up under blankets.
Also, dogs that get cold easily often like to curl up inside a cave bed.
Here's an article to learn more about them including product recommendations: 5+ Cozy Dog Cave Beds for Australians
Dog Dens
Dogs are den animals and feel protected if they can retreat into their own den.
Inside a dog den, your dog should be able to stand up as well as lie down stretched out without touching the side walls.
Here are some ideas for dog dens:
Elevated Trampoline Dog Beds (Training/Outdoor)
Elevated trampoline dog beds are great for outdoor use and traveling as they're normally more weather-proof than other types of dog beds.
You can also combine them with a dog blanket, orthopaedic mattress, or pillow bed for that extra level of comfort for your dog.
Easy to assemble
Great reviews
Available in 3 sizes
From $44 including free shipping – Check latest price
Dog Sleeping Bag
Dog sleeping bags are great for outdoor adventures.
Combine them with a blanket, orthopaedic mattress, or pillow bed for extra comfort.
Learn more about them here: Where to get a dog sleeping bag in Australia