Where To Find A Dog-Friendly Puppuccino Cafe In Perth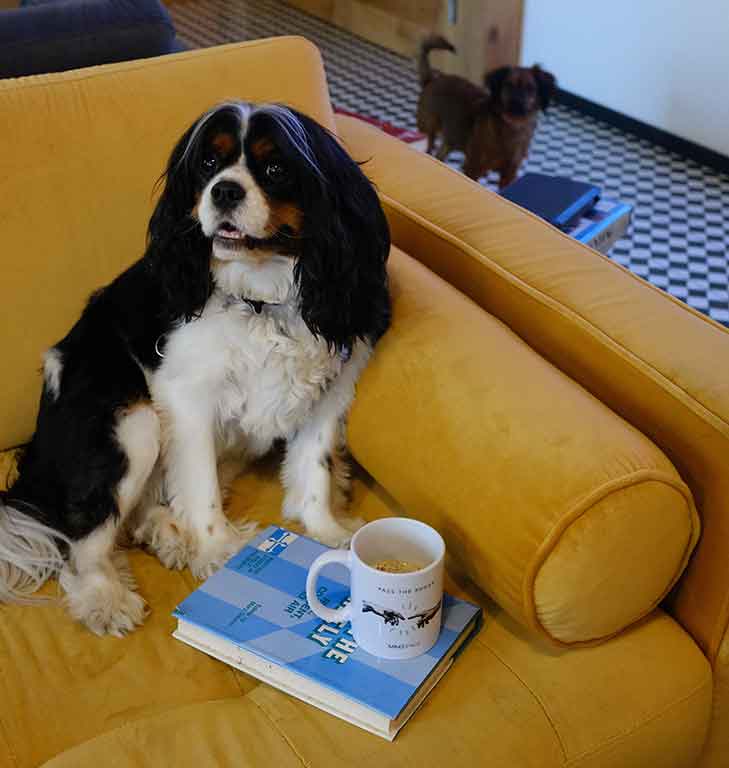 Who doesn't like a dog-friendly cafe that serves Puppuccinos? If you haven't heard of them, a Puppuccino is a warm drink, without actual coffee, that makes our little ones feel special.
Dogs love them, so we put together a handy list of dog-friendly cafes in Perth that we know of, where you can get your pup a Puppuccino. 
If you want to take your dog out but don't care about the Puppuccino, check out these two articles: Find a Dog-Friendly Puppuccino Cafe in Perth: Northern Suburbs and Find a Dog-Friendly Puppuccino Cafe in Perth: Southern Suburbs
Table of Contents
What makes a Puppuccino?
The drink started as a simple cup filled with whipped cream, but most adult dogs are lactose intolerant and shouldn't indulge in saturated fat and sugar.
So, other versions have arisen, such as whipped goats milk with coconut cream. Make sure to always ask as the cafe what their ingredients are for Puppuccinos, and if you notice any digestive issues, stop giving them to your pup.
Modest amounts on occasion is rarely an issue, but opt for lactose-free options whenever possible, and if in doubt, talk to your vet.
Where can you find a Dog-Friendly Cafe in Perth that serves Puppuccinos?
Use the map below to find a Dog-Friendly Cafe in Perth that serves Puppuccinos near you. Scroll down to learn more about the cafes.
You can open this map in Google Maps to share or save it by clicking the top right icon 🐶
Bespoke by Barista HQ in Vic Park
A real gem in Vic Park, Barista HQ recently opened Bespoke, a stunning looking dog-friendly cafe on Albany Highway in Victoria Park.
Quickly known for their friendly staff, extensive menu and great coffee, we were excited to find out that they have Puppuccinos on offer too!
Union Kitchen in Mindarie
Up the coast past Joondalup, you'll find this fantastic place that's not just dog-friendly but also right by the beach with an awesome view.
Union Kitchen in Mindarie has a menu just for dogs, which includes the infamous Puppuccino, some tasty treats such as Cheesy Chicken Chews and Peanut Pups, and also a full Dogs Breakfast.
Think sausage, bacon & scrambled egg topped with liver sprinkles… now that's a way to spoil our dogs!
BOO Espresso in Northbridge
If you're after something more central with a dog park just across the road, pop by BOO Espresso in Northbridge. Attached to a warehouse on Stuart Street, this hole-in-the-wall dog-friendly coffee spot in Northbridge features a Puppuccino in their menu!
The Botanical Cafe in Kings Park
The Botanical Cafe in Kings Park is dog-friendly. Their large terrace features a water station and they're now also offering yummy Puppuccinos!
The Wild Fig in Scarborough
The Wild Fig in Scarborough offers great food that's made from fresh, responsibly sourced produce as well as excellent service in a lovely setting. It's located on the beach front, so get excited for that sea breeze as well as beautiful ocean views.
Academy Cafe in Claremont
The Academy Cafe in Claremont is so dog-friendly that they have their own pampered pooch menu. Items range from Puppuccinos and small treats such as frozen banana treats, all the way to full meals, such as a Woof Burger and Chicken Liver and Rice. They even do different portion sizes, for small and large pups.
Little H Cafe in Duncraig
Little H is a cute dog-friendly cafe in Duncraig with awesome food and excellent service. If you're up north, it's a great place to go to for that Puppuccino.
Inner Bean in North Fremantle
Inner Bean is a dog-friendly coffee van located at Gil Fraser Reserve on the river in North Fremantle. They welcome all dogs, provide water and free treats, have a photo board and are now also serving puppuccinos for their four-legged customers.
Did we miss a Dog-Friendly Cafe in Perth that serves Puppuccinos?
We LOVE hearing about all the fabulous dog-friendly places around Perth. Please feel free to get in touch with us anytime, either through Instagram or our Contact Form. Thank you!