3+ Great Dog Backpacks For Australians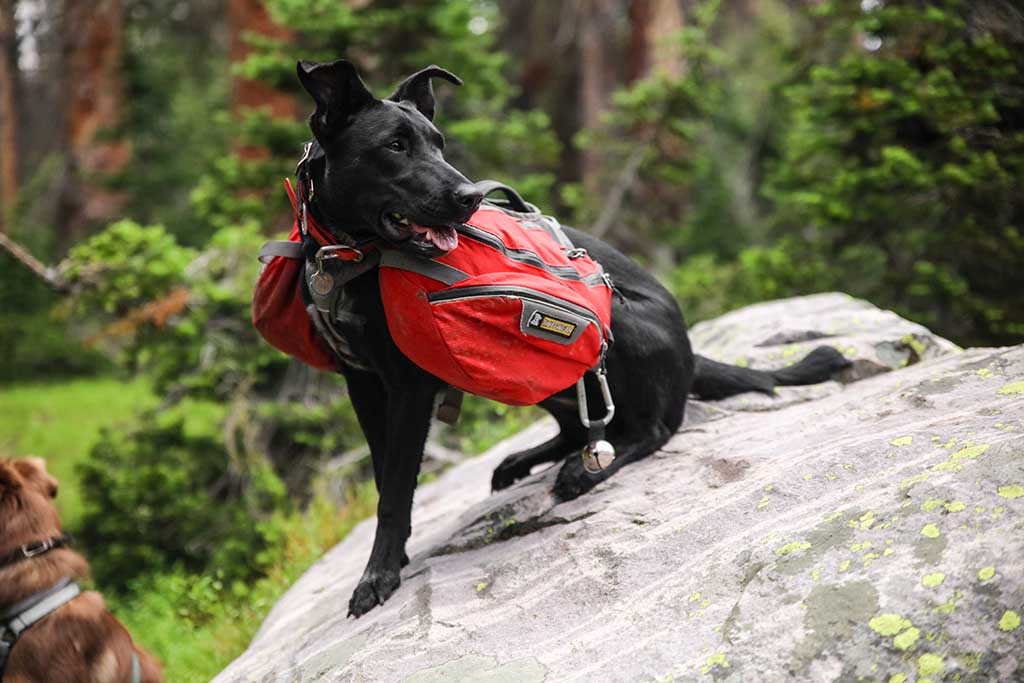 Patrick Hendry on Unsplash
Honestly how good is it to make our dogs part of outdoor activities? They're literally the perfect adventure partners. 
When it comes to outdoorsy adventures, there's often some packing involved. And if we bring our dogs, there's dog stuff that needs to come along too – think food, water, the lot. 
So luckily, some genius had the great idea to make a backpack for dogs, and now here we are with a bunch of awesome ones to choose from. 
Keep in mind we're not talking about human backpacks to carry dogs. But backpacks for the dogs to carry. 
Lots of dogs love it because they like having that extra job to do, and it gives us humans more space in our own backpacks. 
In this article, we'll explore what's important to know on the topic of dog backpacks, and where you can buy one in Australia. Let's dig in. 
Table of Contents
What's important when buying a dog backpack?
Similar to human backpacks, cheaply-made, low-quality backpacks may hurt your dog over time, so it's important to buy a good-quality product and fit it correctly. 
Here are some considerations for what to look out for:
Adjustable sizing
High-quality stitches 
Water resistant material
Breathable material 
Padding
Reflective material
Handle on top 
Can all dogs carry a backpack?
If your dog is fully grown and healthy, carrying a backpack is normally no problem as long as it's fitted correctly and purchased in the right size for your breed of dog. 
Bear in mind that the weight of the backpack should be in-line with your dog's weight though. In other words, don't make your little miniature Dachshund carry 7 litres of water bottles. 
Also, in the beginning, when you're training your dog to get used to carrying a backpack, it can help to start with less weight. So, get your dog used to carry the empty backpack first, and then slowly increase its weight. 
There's no general rule when it comes to the maximum weight, as it always depends on your individual dog. However in our research we found multiple sources recommending a range of 5 – 10% of your dog's body weight. 
So, if your dog weighs 20kg, keep the weight of the backpack under 2kg. And make sure it's evenly distributed so it won't throw your dog out of balance 🙂
Dog Backpack: What to pack
Here are some packing ideas that may be helpful when going on an adventure:
What is the best dog backpack?
As it's unfortunately so often the case, the best reviewed dog backpacks can be a bit tricky to buy in Australia, as most options are from overseas brands and many of them don't ship to Australia.
That said, luckily some of them have resellers here.
Ruffwear Backpacks
Ruffwear is a well-known brand for outdoor dog gear. You can find an Australian reseller near you here: Store Locator
It's worthwhile to give your closest reseller a call first, as they may not stock the backpacks (Ruffwear has lots of different dog products, not just backpacks).
Alternatively you can also order them from Amazon, just keep an eye on the shipping fees to avoid bad surprises.
Outward Hound Dog Backpack
If you're after a dog backpack that's a bit cheaper, you might like the one from Outward Hound.
Available in 4 sizes and 2 colours
4.1 out of 5 stars rating (3000+ reviews)
From $37.99 + shipping – Check the latest price
OneTigris Hiking Backpack
If you prefer a different design, you may like the vintage version from OneTigris that's made from high-density cotton canvas.
Adjustable size for medium-large dogs
From $110 including free delivery – Check latest price
Kurgo Dog Backpack with integrated harness
Kurgo is known for their great dog harnesses, and so it comes as no surprise that they designed a dog backpack with an integrated harness, which makes it super functional.