Review: Ibiyaya Gentle Giant Pet Wagon
Beautifully designed pet wagon
Not suitable for large dogs
Great choice for small dogs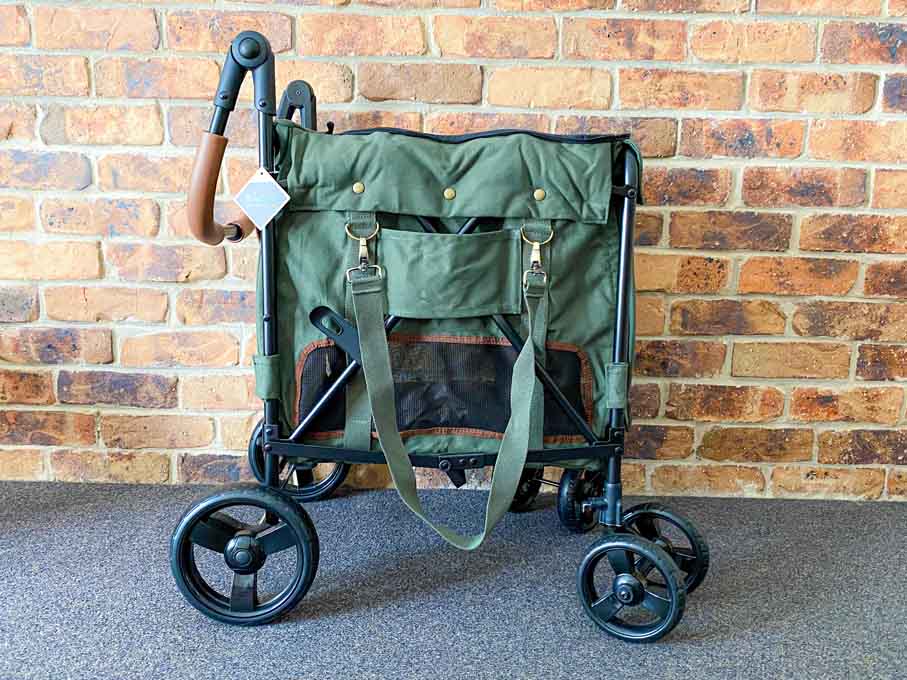 Review Overview: 65/100
The Ibiyaya Gentle Giant Pet Wagon is a great product that unfortunately completely fails its target market ("Giant", "Large" dogs).
Given the strong mismatch between the product description and the actual product, we review this product as a 65/100.
To be clear, we acknowledge that a great deal of work has gone into the design and manufacturing of this product. And if the product was advertised for small dogs, it would have been an easy 100/100.
So, don't hesitate to purchase the Ibiyaya Gentle Giant Pet Wagon if it's for a small dog or puppy.
But if you're looking for a pet wagon for a bigger dog, look elsewhere.
Keep reading below to learn more about how we believe that the product fails to meet the expectations of its intended target market.
Table of Contents
The Ibiyaya Gentle Giant Pet Wagon
The proof is in the pudding. As they like to say, to find out if something is good or bad you need to test it yourself.
So, we purchased the Giant Pet Wagon and based on their product description and how the product has been named, we expected:
a pet stroller for medium and large dog breeds (up to 25kg)
suitable for older and injured dogs that can't move around as much
comfortable and roomy stroller cabin
Assembly of the product
The Giant Pet Wagon was super easy to assemble. It's been packaged well, and it took us less than 5 minutes from opening the box to having the wagon fully assembled and ready to go.
It also gives the first impression of a very well made product. No weird smells, and the materials feel sturdy.
That said, if the product was used for a heavier dog, we'd be a bit worried about the durability of the bottom elements of the pet wagon. They give the impression that they may bend easily.
Product test with a 19kg Border Collie
Given that the product is advertised towards larger dogs up to 25kg, we tested it with a medium-sized dog, assuming it should definitely be a comfortable fit: a 19kg Border Collie
Border Collies are classed as medium sized dogs, and the normal weight range for adult male dogs is 19-24kg.
Unfortunately at this step our excitement for the product turned into disappointment.
It quickly became clear that the stroller dimensions will not suit larger dogs.
Our Border Collie could walk into the wagon from the front (however he struggled to turn around once inside), and we could lift him inside from the top.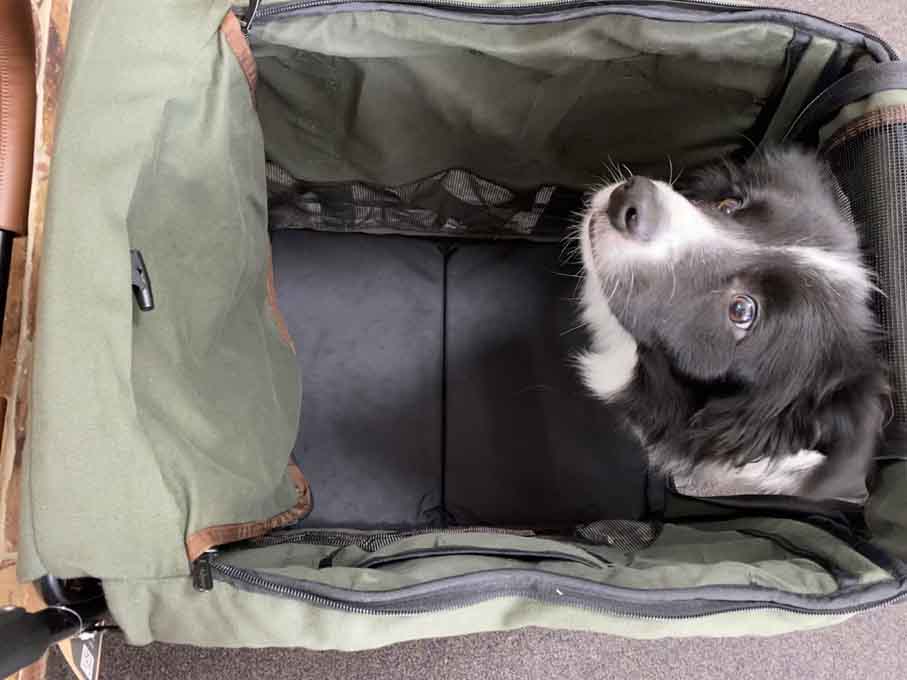 He could sit inside the wagon, but he could never lie down with the front closed. If the front was left open, he could lie down with his paws hanging out, but we deemed this as too high of a risk for accidents and injuries.
At this time, he wasn't injured and he's not an old dog. If he was, there's no way we could have gotten him into the stroller without hurting him.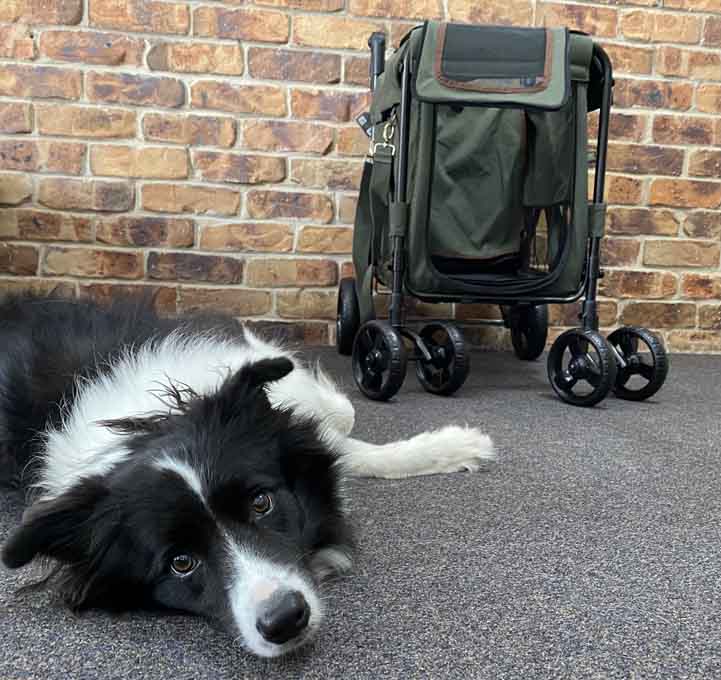 Product Measurements
To be fair, at all times the product measurements have been part of the product description. So, everybody can (and should) assess whether the dimensions will suit their dog before purchasing the product.
But here's our but: If the product name includes the word "giant", and if the product description specifically targets "big-sized pets", we find it rather surprising that the measurements don't match the description – by a long stretch.
To make sure we're not criticising a great product unfairly, we further explored different types of medium-sized dog breeds and cabin dimensions.
Travel Crate Comparison
We figured Qantas knowns a thing or two about comfortable pet travel, so we studied their travel crate size chart.
Airlines use measurements relating to the pet's size to make sure there is enough room inside the crate for the pet to travel comfortably, with enough room to stand, sit and turn around.
To be fair, a dog will likely not need to stand and turn around in a pet wagon, but they should be able to sit and lie down.
And if we're speaking of older or injured dogs, lying down will be more important than sitting.
The Ibiyaya Pet Wagon is 35cm long and 50cm wide (cabin dimensions).
It's most similar to a PP-20 travel crate, which is 53cm x 37cm.
The PP-20 travel crate is for small dogs up to 7kg.
Now, unfortunately that's not even close to being a comfortable fit for medium or large breed dogs up to 25kg.
The Ibiyaya Giant Pet Wagon Is Great For Small Dogs
If have a small dog and you're looking for a dog stroller that doesn't look like a typical stroller, this is the perfect product for you.
It's easy to assemble, well-made, doesn't feel cheap and it's beautifully designed.
However if you have a medium or large breed dog be cautious. Check the cabin dimensions, measure your dog (or check the average size of your breed here), and then be honest with yourself about whether this will be comfortable for your dog.
Alternatives for bigger dogs
More and more dog owners are looking to buy dog strollers for a great variety of reasons. The most obvious ones are to make it easier to transport older and injured dogs.
Pet strollers can be hard to find as-is, but it's even more difficult if you're looking for one for a larger dog.
Ibiyaya Hercules Pet Stroller
The Ibiyaya Hercules Pet Stroller may work for you if you have a medium-sized dog.
The cabin dimensions (78cm x 60cm) are closest to PP-40 (73cm x 45cm) and PP-50 (82cm x 56cm) travel crates.
Outdoor Utility Wagons
Alternatively, you can buy an actual wagon for your dog. They're not specifically made for dogs, so look for "outdoor utility wagons".
Be aware that most alternatives that aren't specifically made for dogs won't have a front-entrance, which will make them more challenging to use for older or injured dogs.
Cargo Bikes
Lastly, you could also consider a cargo bike and possibly redesign it yourself (or have it custom-made) to make it easier for your dog to get into it.
Summary: Ibiyaya Giant Pet Wagon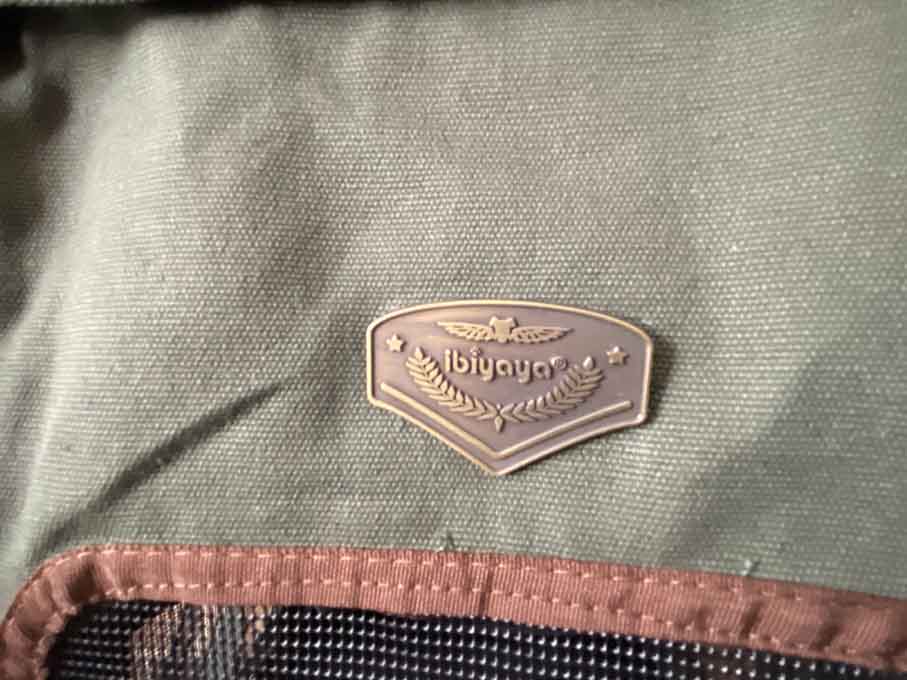 Pros
Beautiful design
Easy to fold
Quick assembly
Compartments to hold toys or other items
Cons
Not suitable for its intended target market
Dogs of Australia