Pug Harness: Which One's Best For You?
Kyle Bushnell on Unsplash
Finding a pug harness that's a good fit can be hard. There are hundreds of different brands out there to choose from, and all our dogs are built differently. A harness that's a good fit for one dog could be a terrible fit for another dog, even if they're the same breed. Because of this, we've put together this article in which we'll help you choose the best harness for your pug. Let's dig in.
Table of Contents
Which harness is best for a pug?
When it comes to finding the best pug harness, it helps to know that it's more important to pick the right design, than it is to buy a particular brand. To put simply, a dog's shoulder has a wide range of movement, which should not be restricted by a harness.
Because of this, it's typically better for dogs to wear 'Y'-shaped harnesses, rather than the ones that have a straight bar across the chest. But all dogs will have a slightly different fit due to their different sizes, so in some instances a straight bar across the chest might not cause any troubles. It's really always an individual assessment to find the best harness for your dog.
If you get really lost in the process, you can try the below:
See if you can find a professional harness fitting near you – this is a service that's sometimes offered by vets and qualified dog trainers.

If you already have a few harnesses in different designs at home, run a little test to find out which one's the best fit for your pug. Similar to the video above, you can record your pug walking while wearing all the different harnesses and no harness. Then analyse all the videos and see if you notice a difference.
Types of harnesses for pugs
Here are popular types of harnesses for pugs: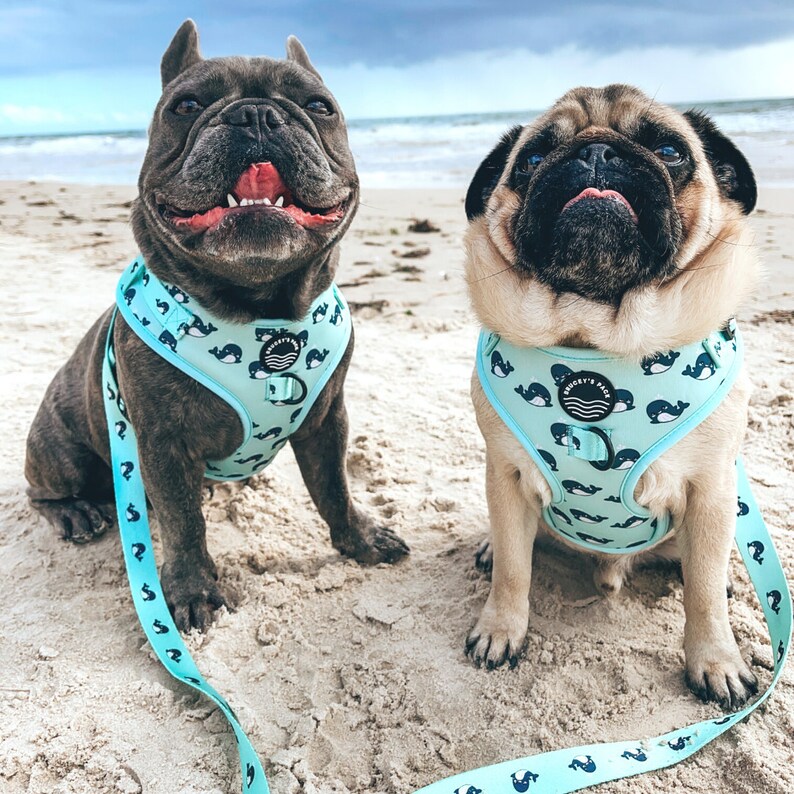 Are harnesses or collars better for pugs?
Your pug can wear a harness or a collar, but it's important that your dog does not pull on the leash. If your pug is not leash-trained, a harness can promote pulling and make it worse, and a collar can hurt your dog's neck and cause breathing issues if they pull while wearing one.
So, it's recommended that you teach your pug loose leash walking as quickly as possible. If your pug still pulls on the leash, it's better to use a harness instead of a collar.
Does a pug need a harness?
A harness is sometimes needed for dog training classes, and if your pug pulls on the leash, a harness will be the more comfortable choice to wear as it won't choke your dog.
Many pug owners prefer to use harnesses at all times to provide an extra layer of safety and comfort when they take their dog out.
For example, if you need to quickly pull your pug away from something (think another dog, or a bicycle, …) it's nicer for the dog to be pulled away while wearing a harness, rather than being dragged away on a collar.
If you're struggling to teach your dog how to walk on a loose leash, it's best to seek help from a qualified dog trainer. You can ask your regular vet if they can recommend a good trainer near you.
How do you measure a pug for a harness?
The brand you're planning to purchase from should have a sizing chart available with instructions on how to best measure your dog. Most of the time, you measure your pug in two places:
Around his neck where the collar normally sits, and
Around the thickest portion of your dog's chest.
You can do this with a tape measure or with a piece of string and measure against a ruler if you don't have a tape measure.