What Makes A Good Dog Collar: 5+ Types Explained
James Haworth on Unsplash
A dog collar is part of the basic equipment of any dog owner.
In combination with a leash, they form the connection between us and our dog to both control and guide them. Their purpose is both safety and communication. 
Aside from that, these days dog collars also often serve as an accessory for the dog and are therefore often chosen for appearance rather than functionality. 
Collars should be functional and stylish, designed to keep dogs attuned to their owners with a minimum of fuss. But searching for dog collars can be a daunting task, as there are so many options to choose from.
So, what makes a good collar? What materials are they made of? And what different types can you choose from?
We know how important it is to choose the right collar for your dog. Whether you're looking for an understated look or something more eye-catching, we're quite confident that we'll be able to help you find the right product for your pup. 
Let's dig in. 
Table of Contents
Dog Collar Size (Length)
One of the most important aspects when choosing a dog collar should be its size, which you can easily measure yourself.
To find the right collar length for your dog, measure their neck with a flexible measuring tape. Most brands will specify the collar length in their description. 
The collar should fit comfortably without being too loose or too tight. 
Make sure to regularly check your dog's collar to make sure it's still a good fit and that your dog hasn't outgrown it. 
For a medium-sized dog, two fingers should fit between the collar and the neck of the dog. With very large dogs, it should be more like three fingers, and with small dogs under 10kg a finger's width is enough. 
Dog Collar Size (Width)
At first glance it may be easy to assume that a thinner collar is more comfortable for your dog, because there's less material around their neck. 
Unfortunately, this is not the case. With a thin collar, the force that acts on the dog's neck when pulling the leash is distributed over a smaller area. This makes it more painful for your dog and it can also lead to health problems.   
With a wide collar, the force exerted on the dog's neck by pulling the leash is much better distributed. So, a wider collar causes your dog less pain and fewer health risks when your dog pulls on the leash. 
It all depends on your dog's individual physique though as all breeds are built differently.
If your dog has an extremely short neck, a wide collar may restrict its freedom of movement. Here it can make sense to use a harness. 
What material are dog collars made of?
The material from which a dog collar is made should be comfortable for your dog, tear-resistant and ideally also easy to care for. 
Dog collars are sometimes exposed to great stress. Therefore, when choosing a dog collar, it makes sense to pay attention to the quality of the material.
Common materials that are used for the production of collars:
Leather
Nylon/Webbing/Paracord
BioThane
Leather collars for dogs
Collars made from leather are known to be durable and comfortable for dogs. On top of that they're fashionable and stylish. 
When it comes to leather products, it's good to know the difference between chrome tanned leather and vegetable tanned leather. 
The chrome tanning process is cheaper and worse for the environment. Vegetable tanning is a natural process that's better for both the environment and the health of the leatherworkers. 
Other than that, be aware that high-quality leather products should be greased regularly. And if leather products get wet and aren't dried properly, they can become stiff, crack, and start to smell. 
So if your dog spends lots of time romping around in water, leather dog collars may not be the best choice. You may want to check out BioThane collars instead (see below).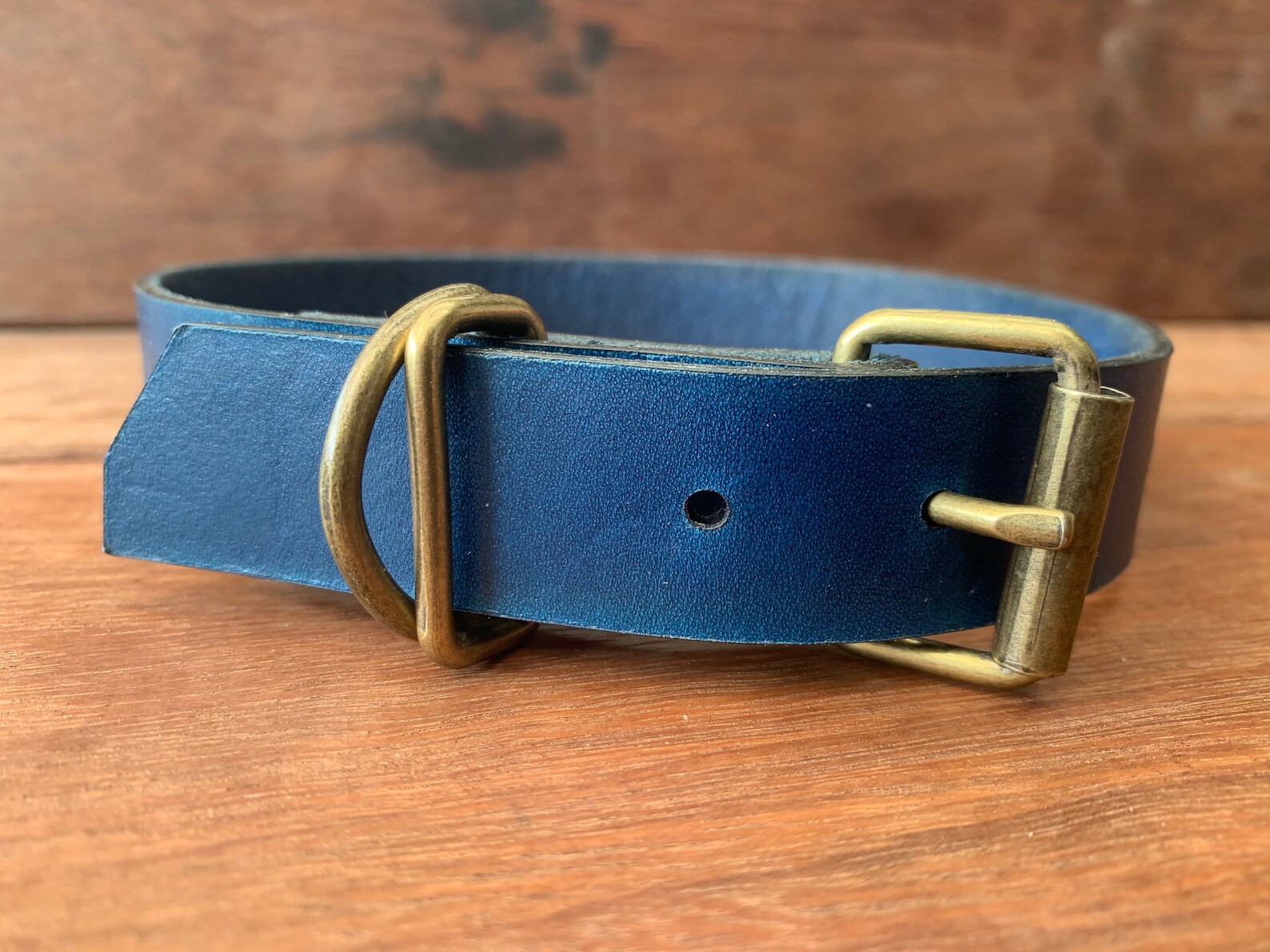 Nylon collars
Collars made of nylon are characterised by their robustness, their many different designs and a certain weather resistance. They're also typically more affordable than leather dog collars.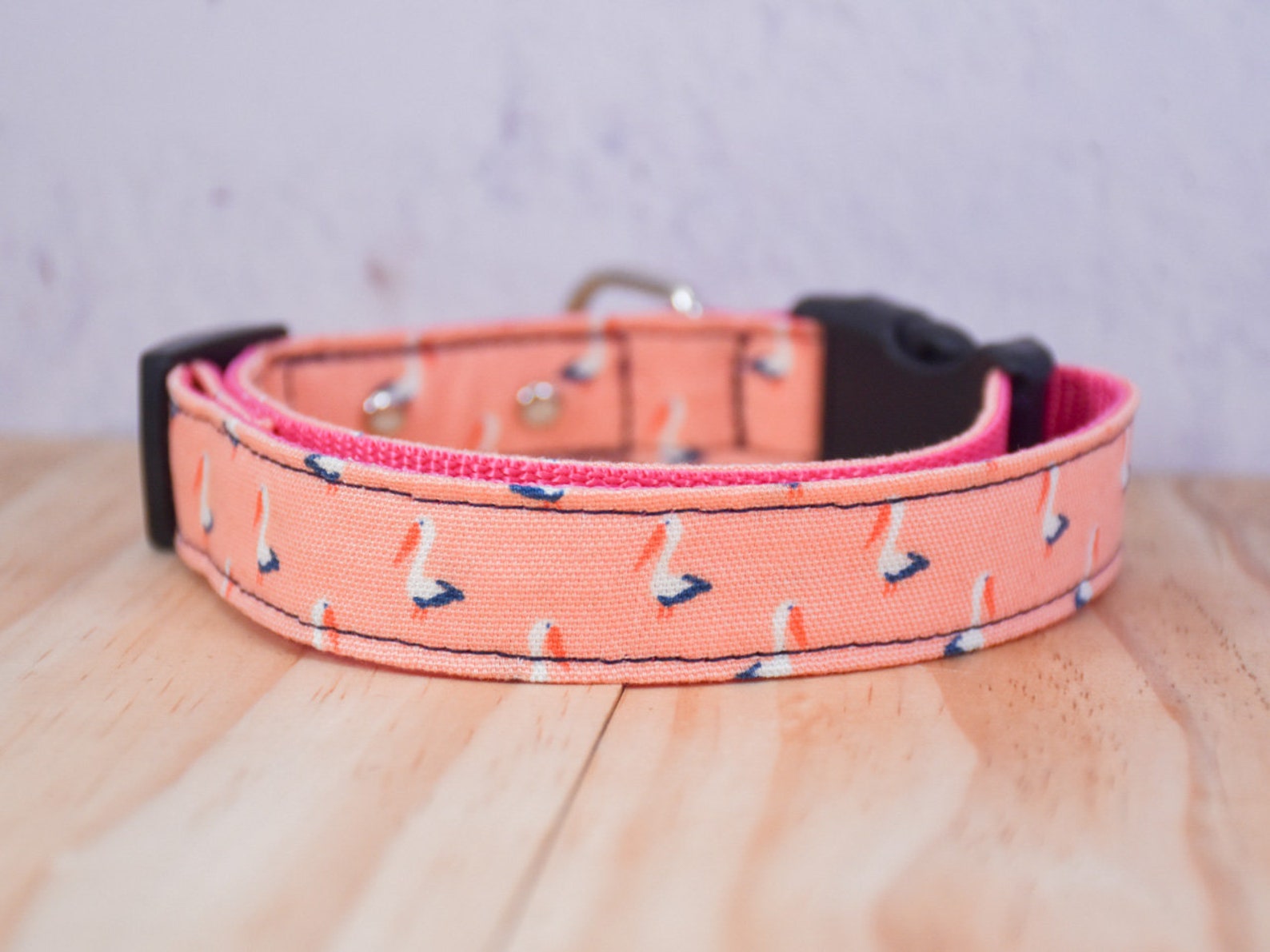 Rope collars
Rope collars consist of twisted or braided natural or synthetic ropes. Climbing ropes or sailing ropes are often used to make this type of dog collar. 
Since ropes are round, the contact surface on the dog's neck is often very small with this type of collar, which can lead to pain and injury when the dog pulls. 
BioThane collar
BioThane is a polyester fabric with a plastic coating. 
Dog collars made from this material often look similar to leather collars. They are very robust, do not absorb water, do not absorb odours, are flexible and easy to clean. 
So, they're a particularly good choice if your dog spends lots of time in water with their collar on.
Other types of dog collars
Collars that glow in the dark
These type of collars are perfect for walks when it's dark outside as they ensure added safety in the darkness.
Greyhound collars
Greyhound dogs have a special physique compared to many other dog breeds. They have a long neck and the head circumference is usually only a few centimetres larger than the neck. 
That's why there are special collars for greyhounds. 
These collars are designed to prevent them from slipping out easily and to reduce the pressure from the leash on the sensitive throat area.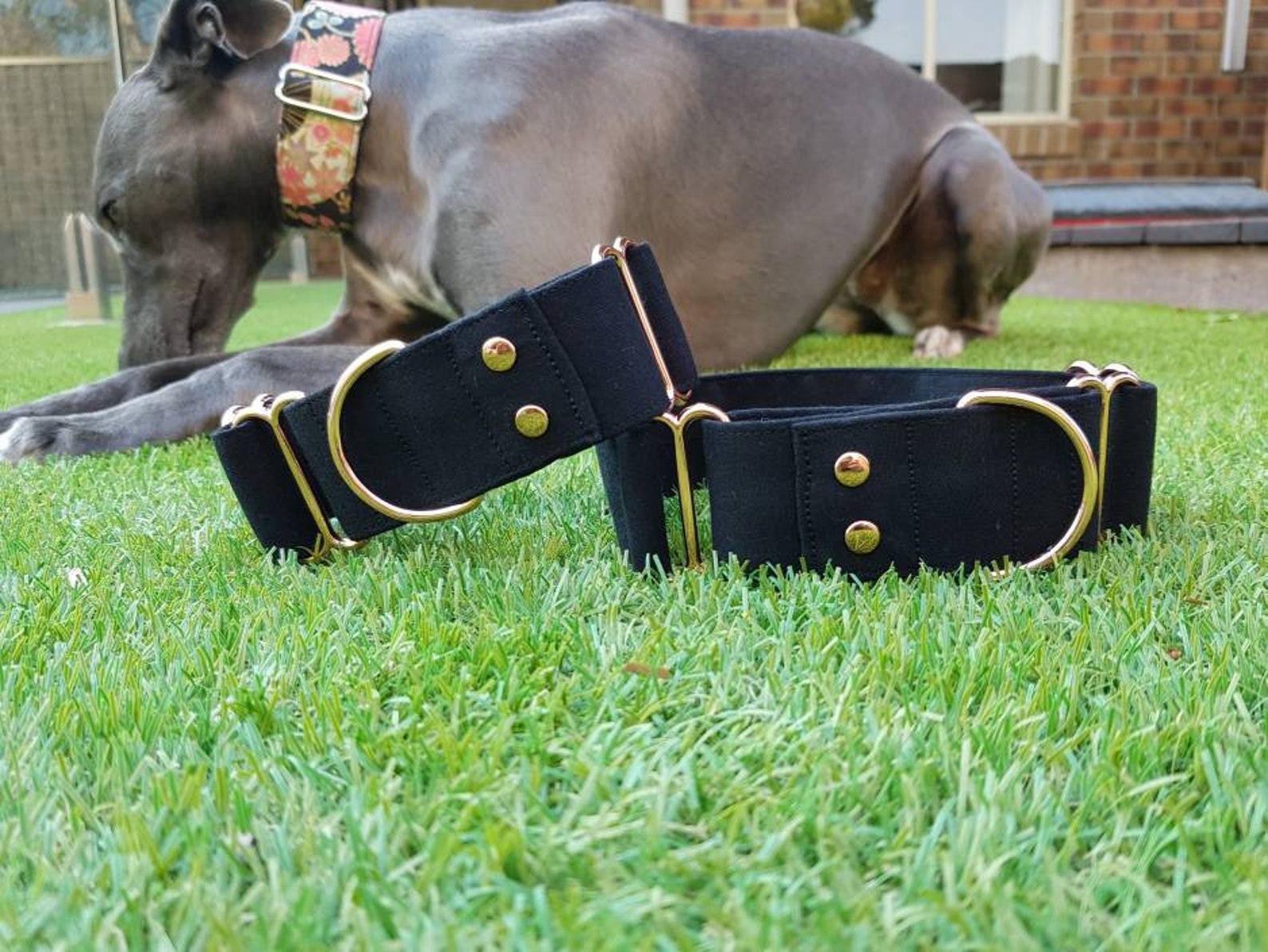 Custom handcrafted to order
Available with a matching leash
Ships from Brisbane, QLD
From $45 – Check the latest price
Dog Collars for Nervous Dogs
Nervous dog collars typically come in bright colours with big, capitalised letters indicating that the dog wearing it requires space.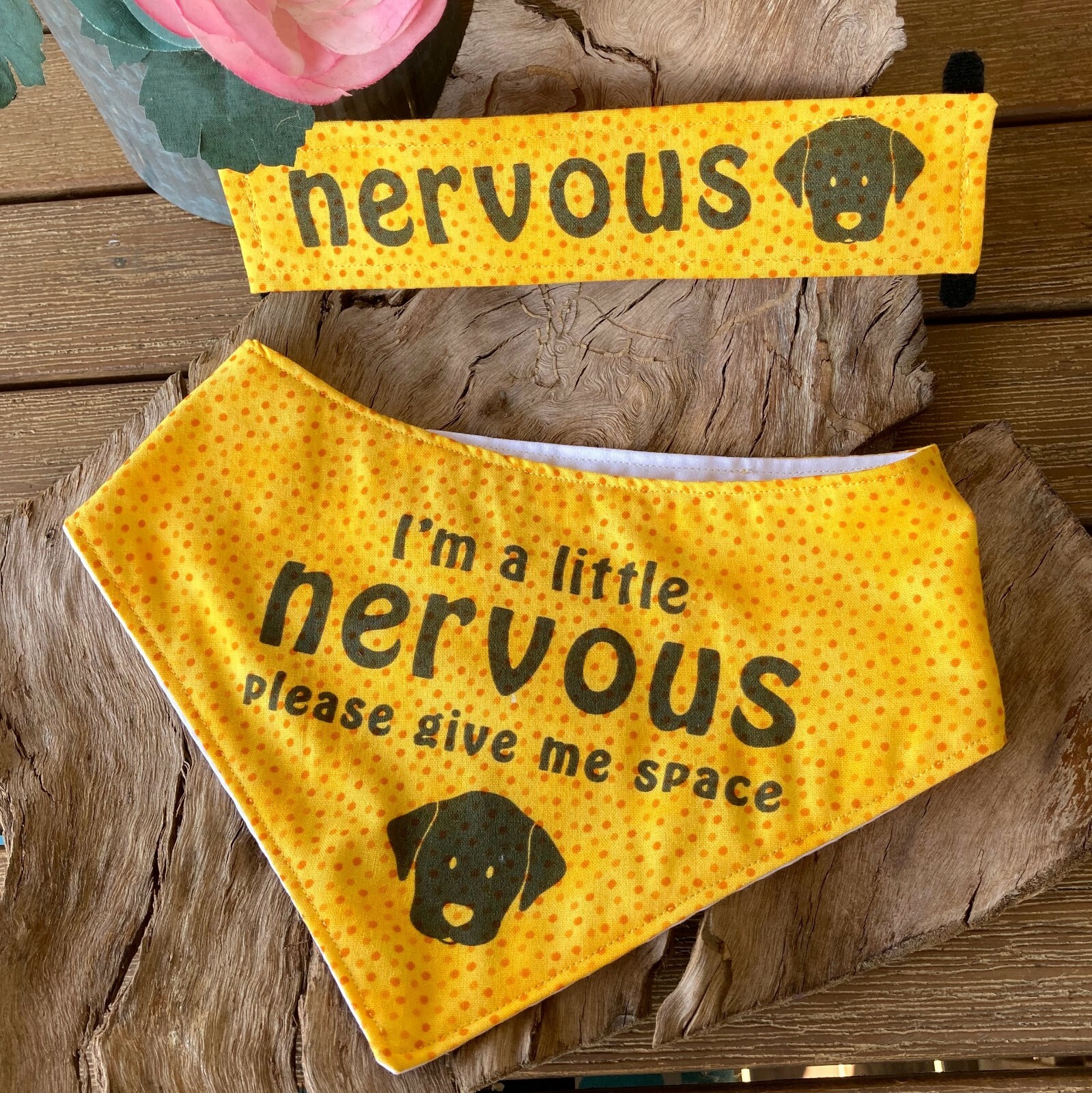 Personalised Dog Collars
Personalised dog collars come in many different styles. They're often made from leather or nylon, but are available in a variety of materials.
The main benefit of a personalised dog collar is that you don't need to attach a tingly dog tag to it (unless of course it's a council regulation to have one). So, if you don't like the sound of dog tags, a personalised dog collar may be a great choice for you.
Here's a link to a longer article about personalised dog collars: 5 Cool Personalised Dog Collars You Need To See
Pink Dog Collars
Pink is a popular colour for dog collars that can be surprisingly hard to find. Check out our article about different types of pink collars for Australian dogs here: 4+ Trendy Pink Dog Collars For Australian Dogs
Training collars
Not all dogs need training collars. There are different types of dog training collars and it will depend on your training approach whether you'll use one or not. 
Any dog training collar should only be used under the guidance of a qualified dog trainer as they can cause damage if not used correctly. 
Identification Tags for Dog Collars
Lastly, every dog should have clearly visible identification information on their collar. 
This can be a tag, which is often a council requirement, or it can be engraved into the collar. 
Either way, your dog's most important details should be quickly and easily visible, so that if your dog runs away for any reason, it can easily be brought back to you.
Don't forget to ensure that your details are always up to date.