4 Tough Staffy Toys For Strong Chewers
Freya Dione on Unsplash
Staffy is short for Staffordshire Bull Terrier.
The ancestor of the Staffy as we know them today was the so called "Bull and Terrier", who was bred in England ca 250 years ago.
These small, but powerful dogs had the strength of the Pit Bulls and the courage and toughness of the Terrier.
As a family pet, the Staffy is an active and high-spirited dog that requires a lot of exercise. The more they can let off steam with sport and activity, the more peaceful you will have them at home.
Hence why in this article, we'll show you our favourite tough Staffy toys that are ideal for bully breeds with a lot of strength.
Don't forget to always supervise your dog when they play with toys.
Table of Contents
Durable Staffy Toys
If your Staffy dog really likes to chew, and has a really strong jaw, check out the durable chew toys below. While there are hardly any dog toys on the market that are truly indestructible, we're excited to show you some that do come pretty close to being indestructible.
Kong Staffy Toys: Extreme Range
The brand Kong has its own range of black products for power chewers
Kongs can help with chewing, separation anxiety, teething, boredom, weight management, crate training, digging, barking and more
Available in different sizes
Pro Tip: Mix it up and keep it interesting. Prepare multiple Kongs with different fillings and store them in your freezer so you always have one ready to go
From $21.95. Check the latest price on Amazon
Staffy Ball
The ultimate hard-wearing tough ball, designed to bring back the natural instincts of your Staffy: Touch, Smell, Taste, Sight and Sound
Thick, durable, has an internal rattle
Safe for alone play
Cannot fit completely inside your best friends mouth and will not will not pop, shatter or crack
From $55.50. Check the latest price on Amazon.
Turbo Chook Spring Pole Toy
If your Staffy loves to play tug, they will love this toy. Also, your arms might appreciate a little break from your strong dog too 🙂
Made from a durable high-quality fire hose
Designed for dogs up to 30kg
From $57.95. Check the latest price on Amazon.
BULLYMAKE Tough Chew Toys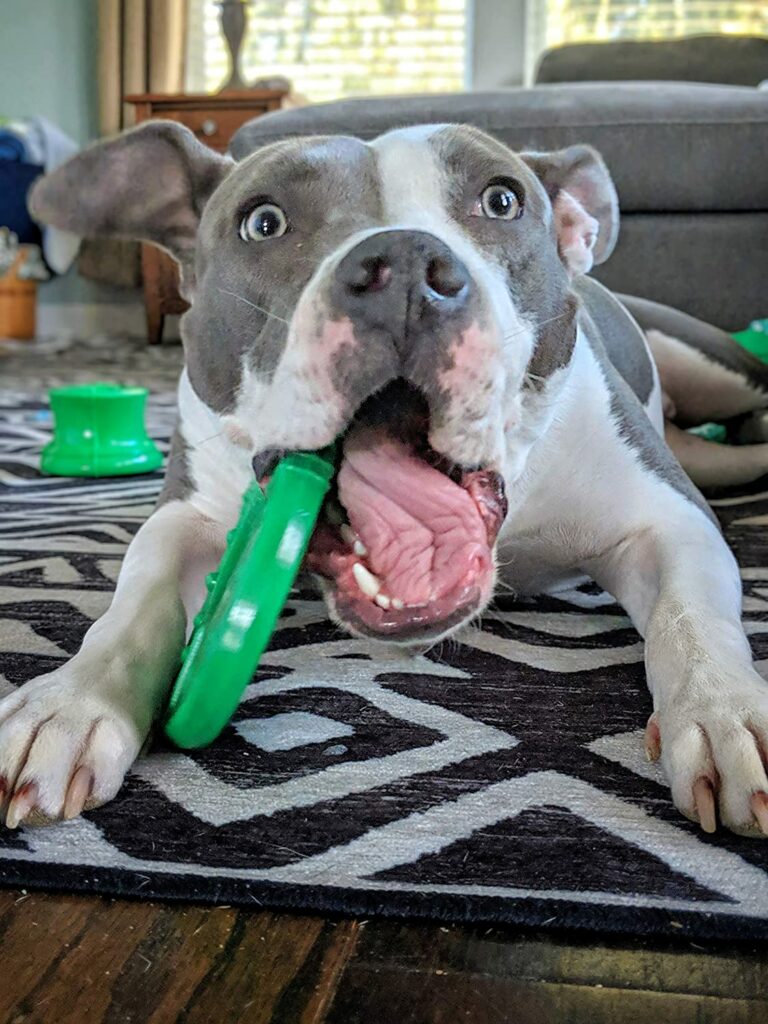 BULLYMAKE is a popular US brand – made, designed, and tested in the US
The Horseshoe toy pictured above, is designed for the heaviest and most aggressive of chewers.
In Australia, you can buy some of their toys on Amazon, starting from around $25 including free shipping if you're a Prime member
Looking for a gift for the human Staffy lover in our life? Check out our gift guide with 11+ gift ideas for Staffy lovers.
You might also like….
Check out our other articles that are all about Staffies: