11+ Cool Greyhound Collars For Australian Dogs
Mitchell Orr on Unsplash
Greyhound dogs and Whippets have a special physique due to their breed. They are sighthounds, which means that they hunt primarily by sight and speed, rather than scent.
Due to their breed, the heads of Greyhounds and Whippets are generally smaller than their necks, so they can slip out of regular collars easily.
Also, Greyhounds and Whippets aren't very furry, and the less fur a dog has around their neck, the wider the collar should be to protect their sensitive throat and skin.
That's why there are special Greyhound collars. And Whippet collars.
Unfortunately they can be hard to find in pet retail shops.
You can often buy them locally at Farmers Markets or through your rescue organisation.
Below we show you some greyhound and whippet collars that you can buy online.
After the collars, we share frequently asked questions about these type of collars.
Long Dogs Australia Martingale Collar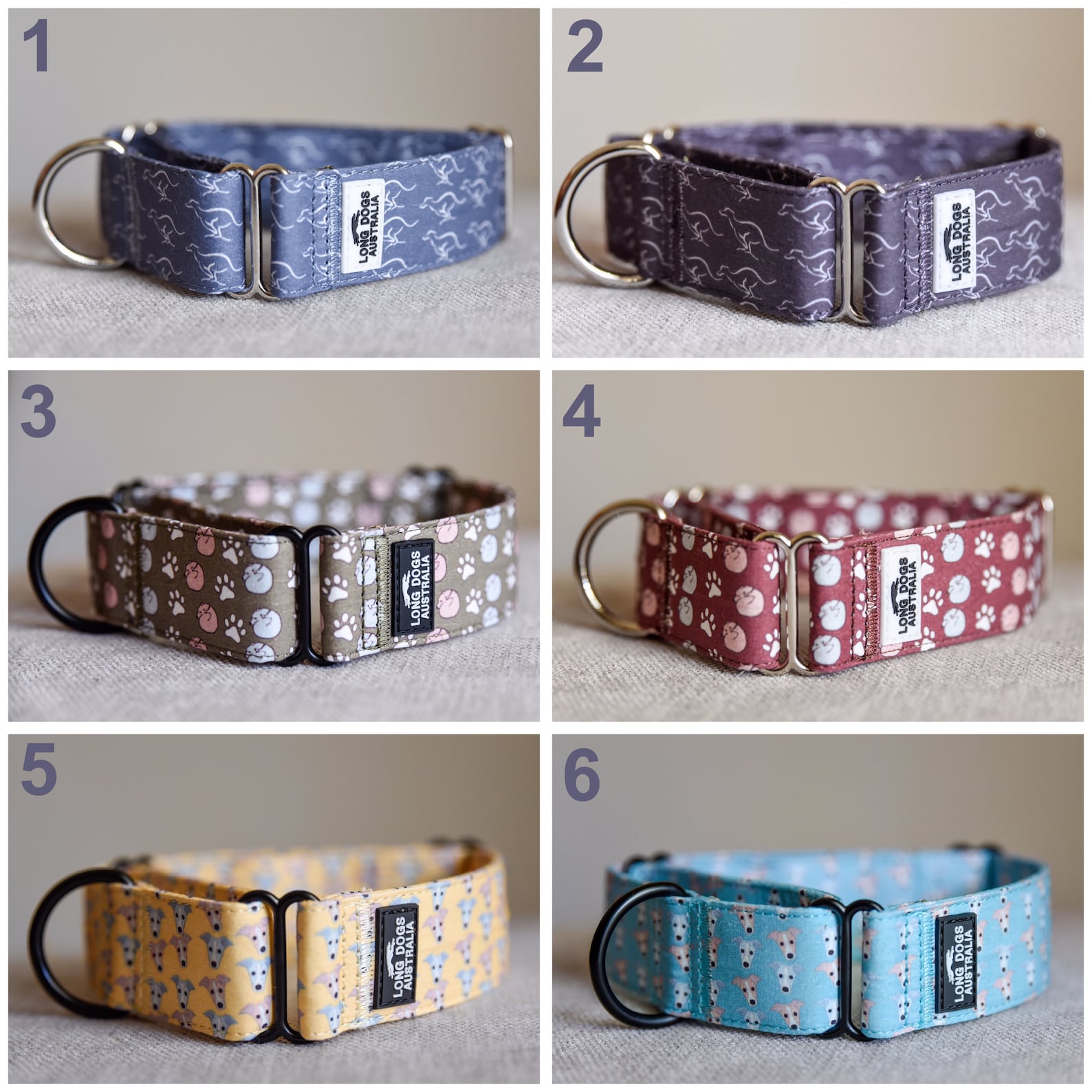 Sunflower Greyhound Collar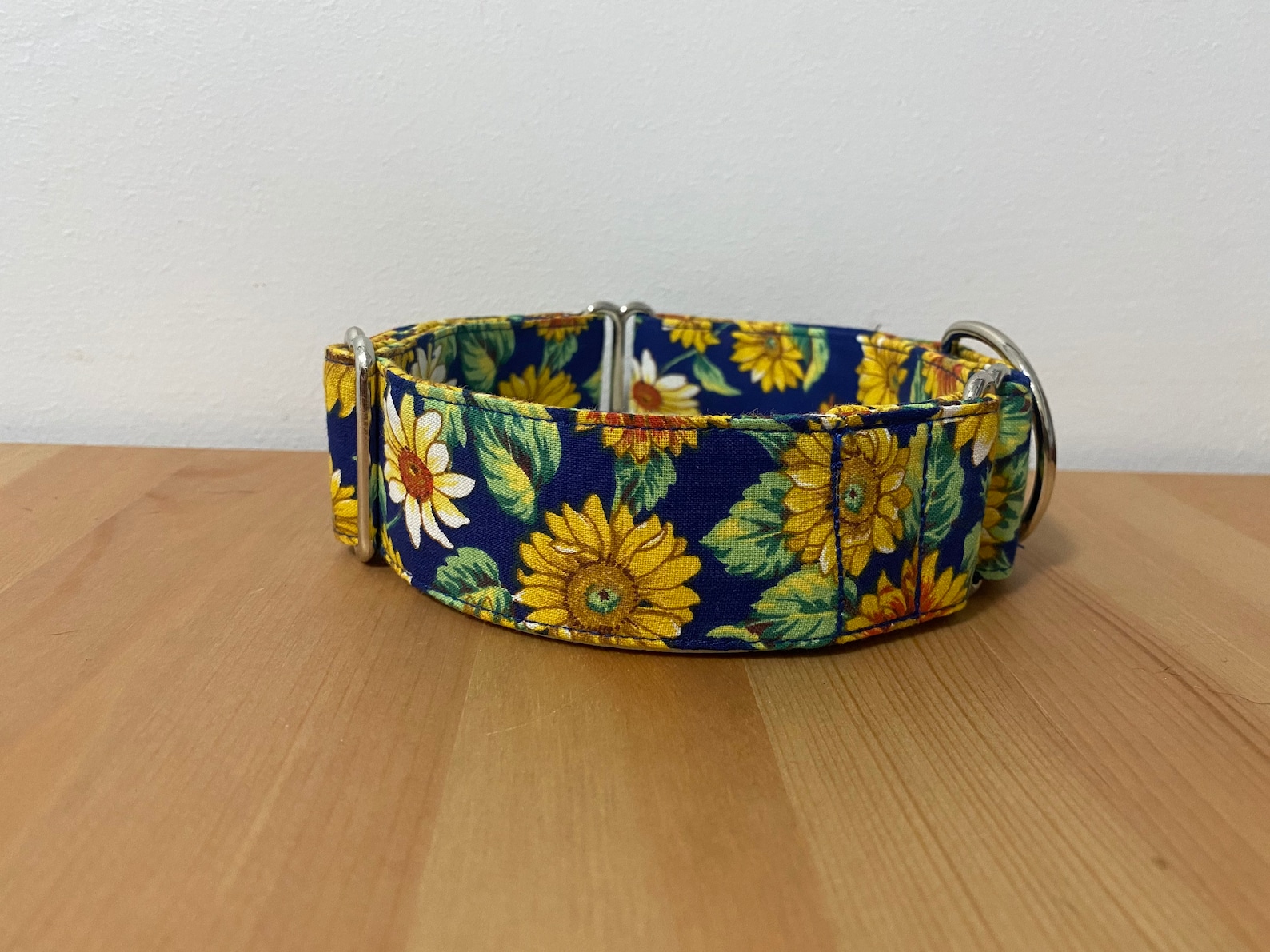 Martingale Dog Collar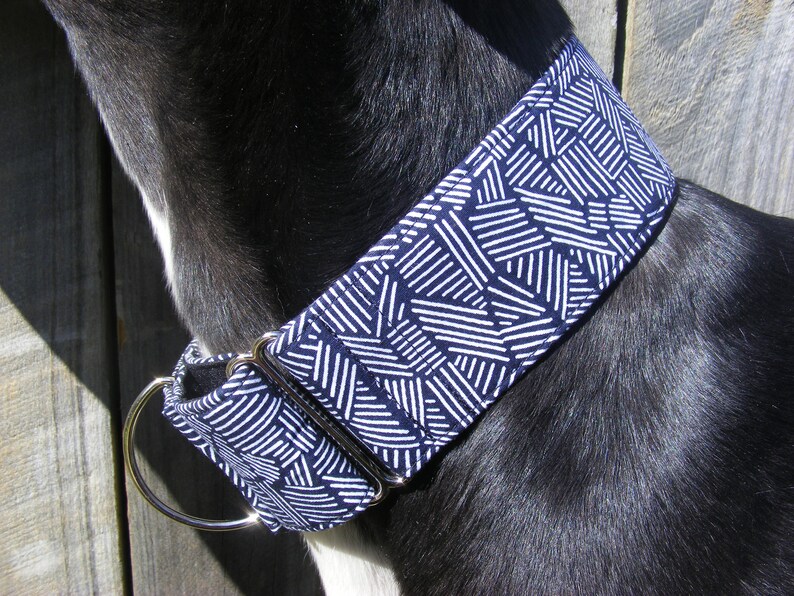 Bollywood Greyhound Collar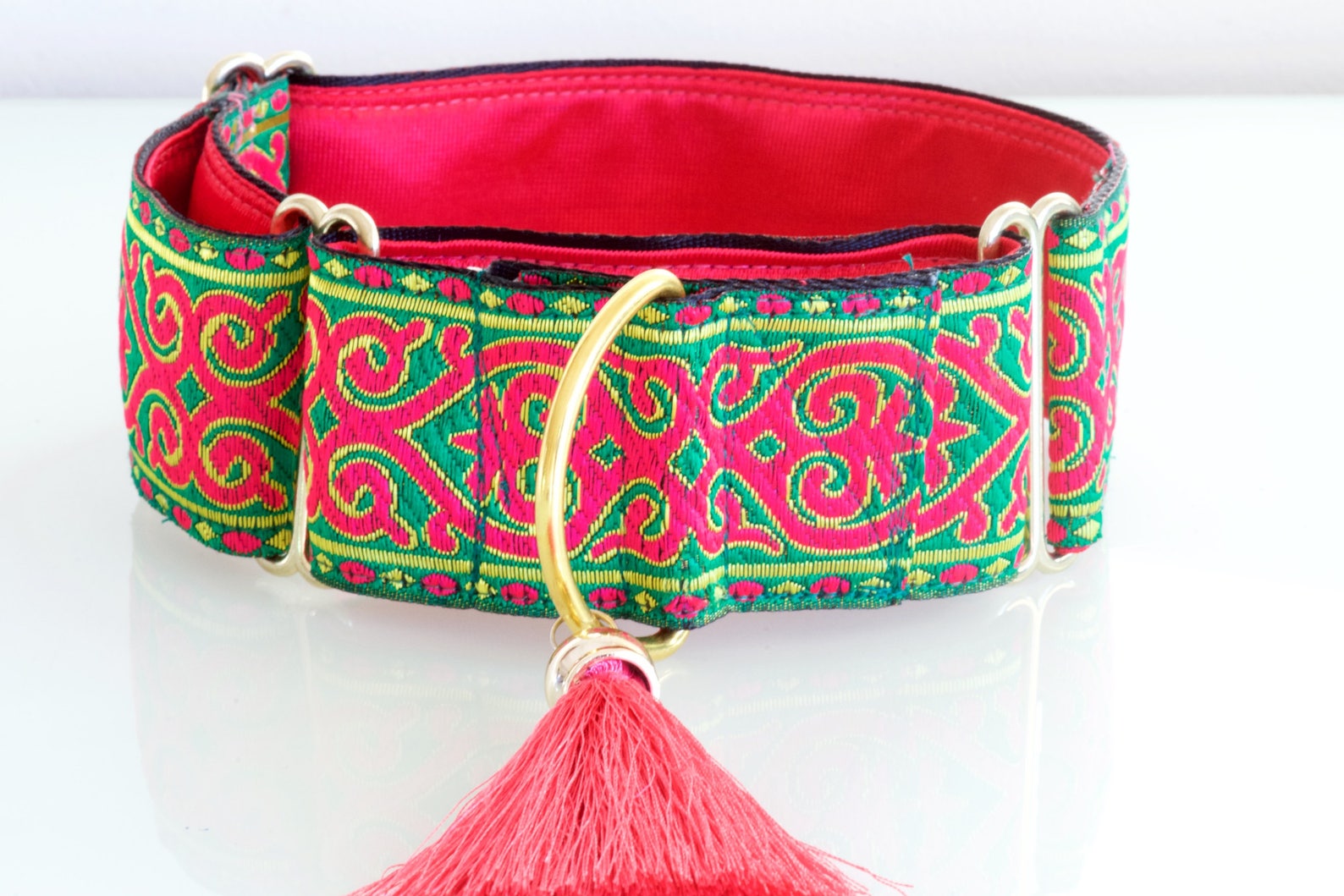 Australian Floral Whippet Collar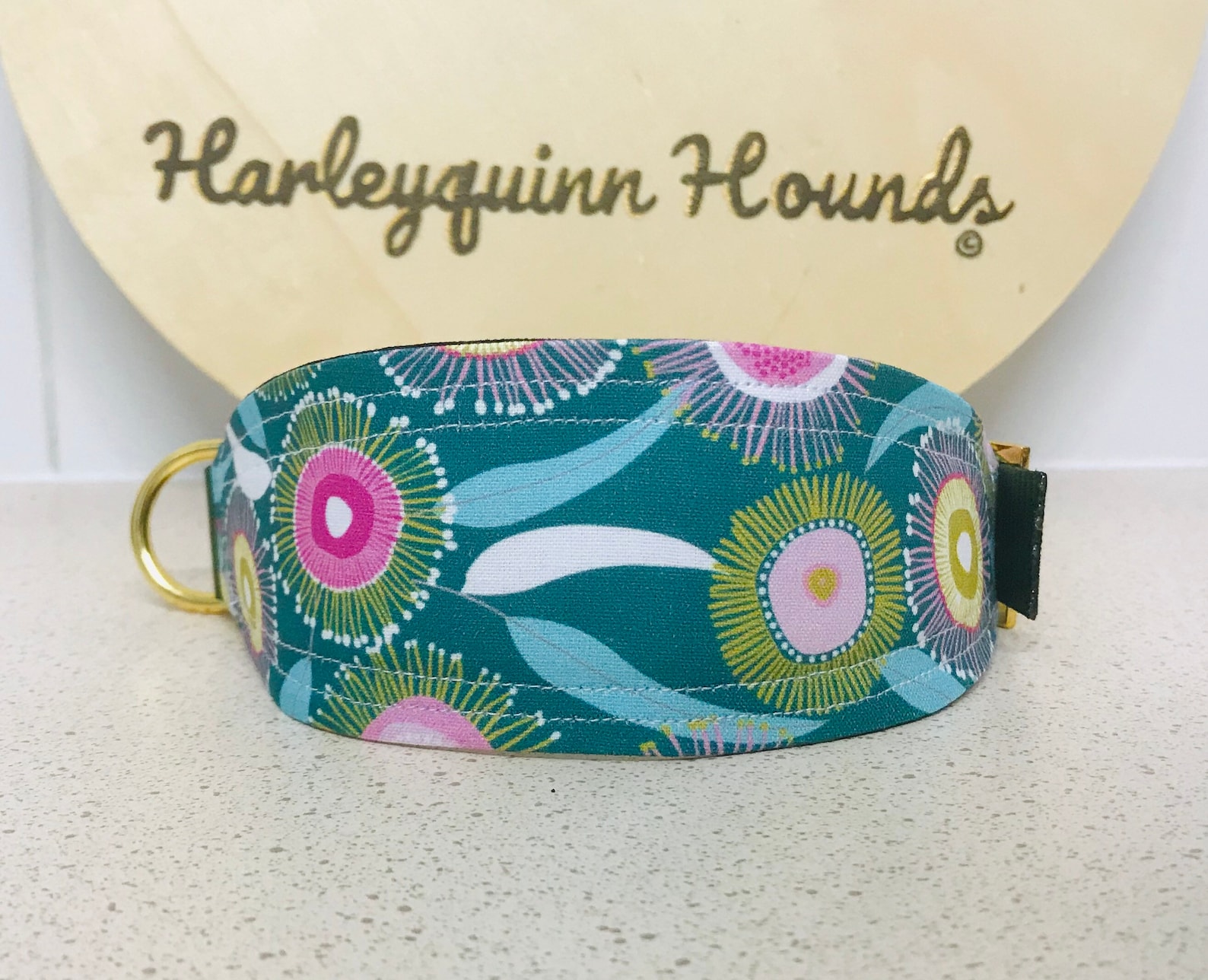 Leather Sighthound Collar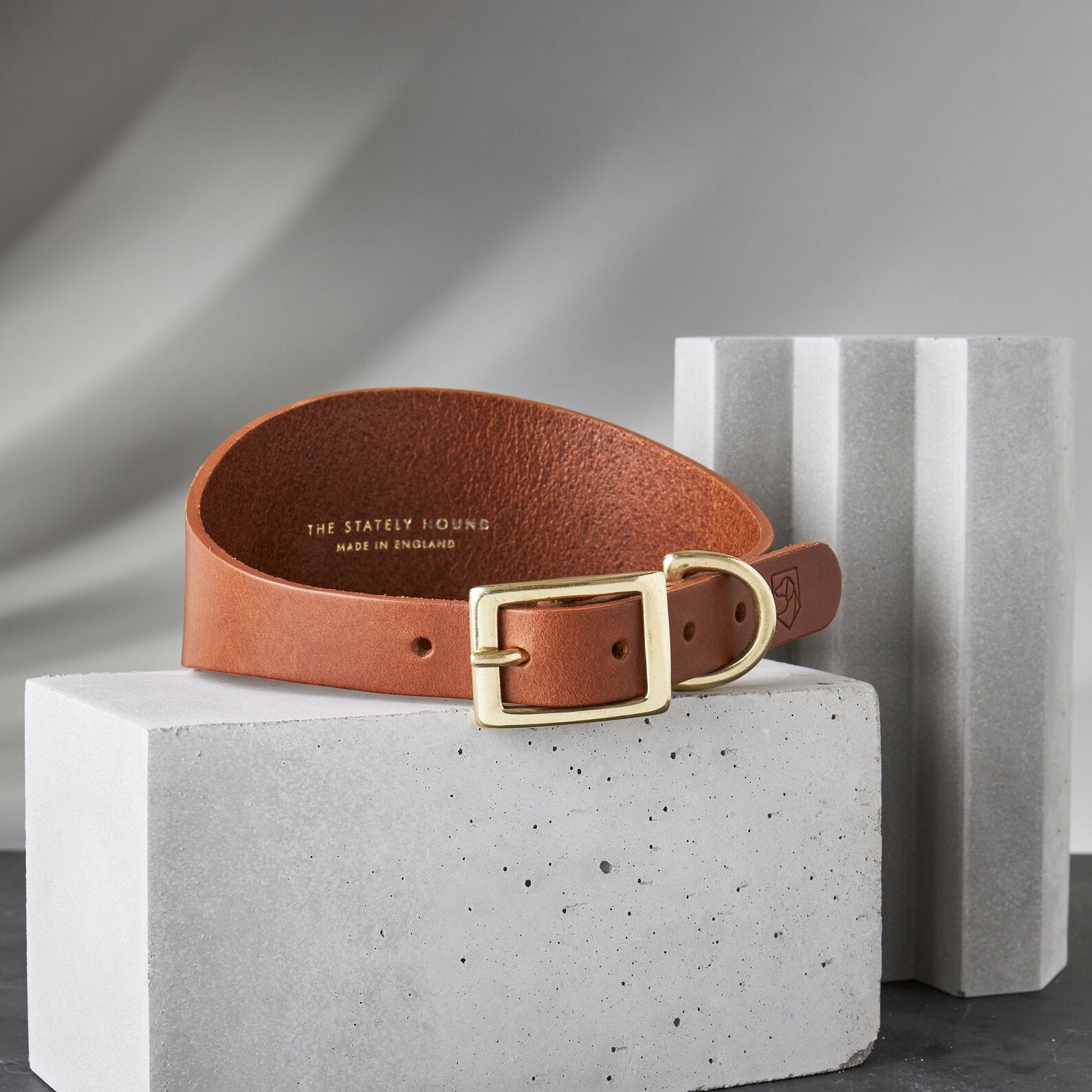 Frequently Asked Questions
Here are some frequently asked questions about greyhound and whippet collars.
Do Greyhounds Need Special Collars?
It's recommended that greyhounds use a special collar called a martingale collar, because they easily slip out of regular collars due to the ratio of head to neck width.
Please note that any collar, including martingale collars, can hurt your dog is they pull while walking on a leash.
If your dog pulls, discuss the topic with your vet or dog trainer, and consider using a dog harness for leashed walks in the meantime. Don't forget to add another pet ID tag to the harness, transfer your tag from the collar, or let your dog continue wearing his tagged collar but attach the leash to a harness instead.
What Is A Greyhound Collar Called?
You can simply call them greyhound collars, and most people will know what you mean. It's typically a martingale collar with a wider width to protect the dog's throat area, or a so-called "sighthound collar", which main feature is also a wider width area to reduce the risk of your dog hurting their neck.
How Does A Greyhound Collar Work?
Special greyhound collars have a wider width area, so that there's more surface area to distribute pressure if your dog pulls while on a lead.
Greyhounds also often wear so-called martingale collars, which are designed to tighten a little bit if your dog pulls, so that they are less likely to slip out of their collar.
Please note that martingale collars are different from slip collars, as they are designed in a way that won't cause your dog to choke, because there's a limit to how much they will tighten when your dog pulls.
Should A Greyhound Wear A Harness?
If your greyhound pulls strongly when on a lead, it's best to have a chat with your vet or dog trainer to find a solution to your problem.
In the meantime, it can be a good idea for your greyhound to wear a harness in order to protect their neck area.
Due to their special physique, it's best to buy a harness that's specially made for sighthound breeds.
You may be able to get one with your local dog rescue, at a local farmers market, or you can buy one from Etsy, like the one shown in the picture below.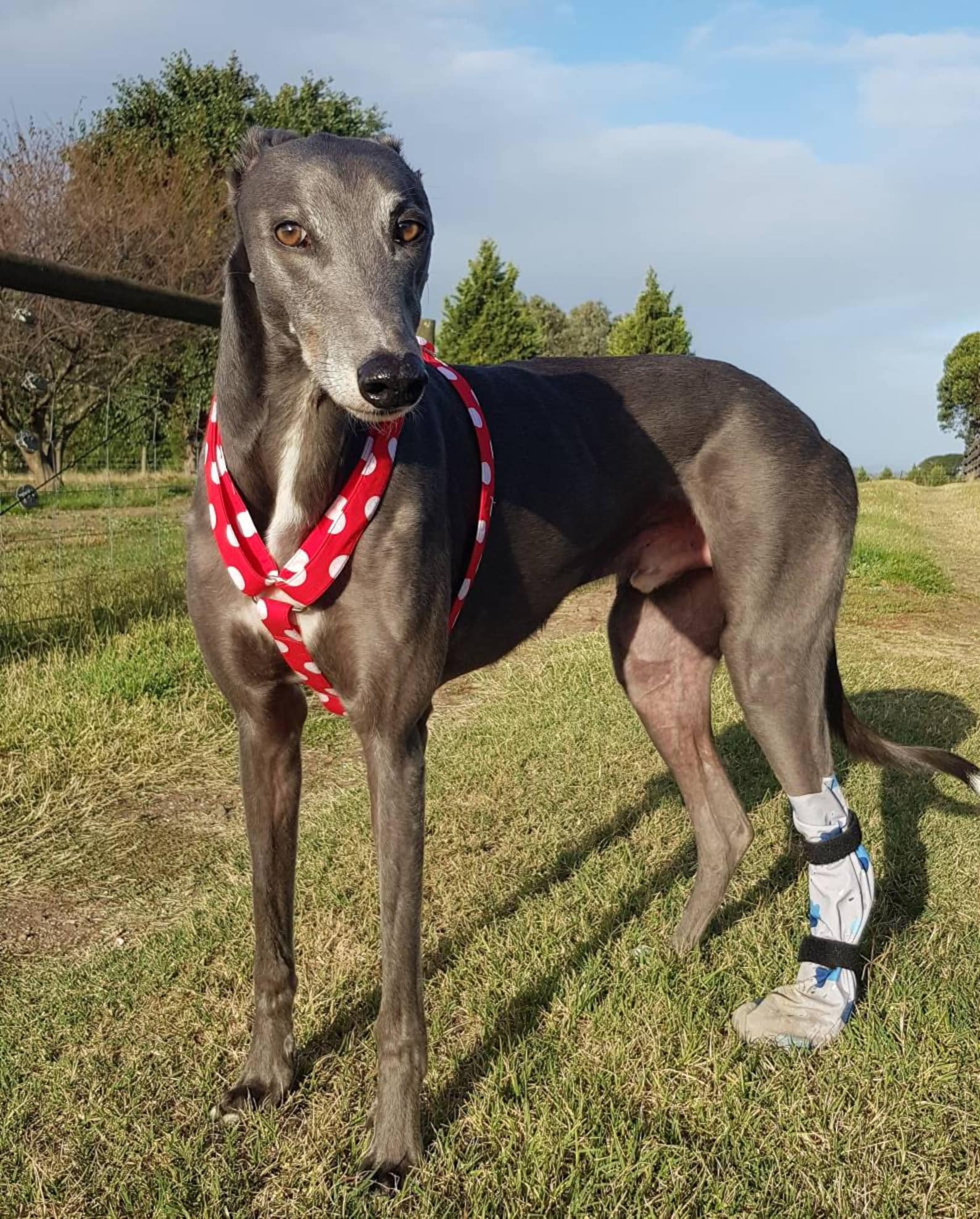 ---
Lastly, if you're looking for a matching leash, you may like this article: 27+ Unique Australian Dog Leashes For All Occasions