What's The Best Dachshund Harness?
Kojirou Sasaki on Unsplash
Personally speaking, finding the right dachshund harness can be challenging.
I've been told this isn't a sausage dog problem though. Finding a harness that's a good fit can be a challenge amongst all breeds of dogs.
Then again, it really is worth it once you managed to find a well-fitting dachshund harnesses.
Because wearing a harness when we're out and about can often be a lot more comfortable for our sausage dogs than wearing a collar.
So, in this article, we'll take a closer look at what makes a great harness for dachshunds, and where you can buy one if you're from Australia. Let's get started.
Table of Contents
What's the best harness for a dachshund?
When choosing a harness for your dachshund, the two important deciding factors are the size and material.
Material for a dachshund harness
Harnesses are available in many different types of materials.
Leather harnesses for dachshunds
Typically, the most natural and expensive option, is a harness made of leather.
If you can know a local leatherworker in your area, you can even go as far as getting one custom-made for your dachshund.
Or if you're happy to take your own measurements, check out Integral Leather on Etsy, for leather harnesses that are handmade in Victoria.
Neoprene & Nylon harnesses for dachshunds
Harnesses made from neoprene or nylon are a great choice for dachshunds, because they're light-weight, durable, and easy to clean.
Pablo & Co is Brisbane-based and sells beautiful styles of custom printed neoprene harnesses.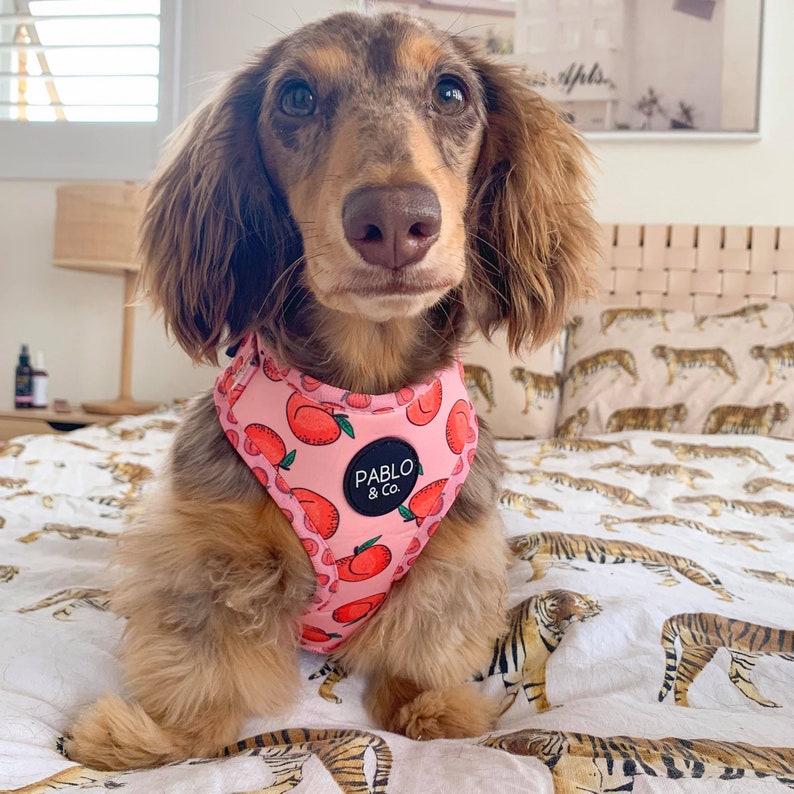 The right size for a dachshund harness
Be aware that lots of regular harnesses may not be a good fit for dachshunds because they're too short (a sausage dog's body is longer than the bodies of many other smaller breed dogs).
So, when looking for a dachshund harness it helps to pay attention to the length of the harness. Or look for one that's custom-made or adjustable.
Overall, you want to make sure that the harness won't rub against your dog's front legs when they're walking.
If you're buying a harness that isn't specifically advertised for dachshunds, it's best to contact the retailer and ask if the length is a suitable fit for sausage dogs.
Should dachshunds wear collars or harnesses?
Well, they can wear either or. Especially when they're well-trained to walk on a loose-leash.
BUT. If you often find yourself in a situation where you need to pull your leashed sausage dog away from something (like, a driving car, another dog, a running child, ….), a harness will be much gentler on your dog's sensitive throat-area than a collar.
From my experience, that's the main reason why many dog owners opt for harnesses over collars.
Even if a dog is really well-trained to walk on a loose leash, life is full of surprises and there are no guarantees that we'll never need to quickly pull our dog away from somewhere to protect them.
If they're wearing a harness, that pull away is a lot more gentle on their bodies.
Will a harness stop my dachshund from pulling?
Probably not, but maybe. It kind of depends on your circumstances and how much of a determined puller your dog is.
Some dog owners have success with so called "no pull harnesses", that change the weight-distribution of your dog when they pull.
That's certainly something you can try, but the truth is that pulling is a learned behaviour that typically needs untangling and re-training. Tools can help, but they're not often a satisfying substitute for consistent dog training.
You Might Also Like…
Check out our other articles that are all about Dachshunds: