15+ Amazing Leather Dog Collars From Australian Creatives
Unsplash
How hard is it to find a high-quality leather dog collar in Australia? Our dog's collar and leash are amongst the most important purchases, so it just makes sense to invest in something that's high quality and long-lasting.
In this article, we'll show you some of the best Leather Dog Collars in Australia we could find. Let's get to it. 
Table of Contents
Pre-Shopping Advice
Be careful if you only just got your puppy as many breeds will outgrow their collar a couple of times until they are 7-ish months old. Also, if you have a strong dog who still pulls heaps, it might be worthwhile considering getting a dog harness instead.
What to look out for in a Leather Dog Collar
Similar to other types of dog collars, the buckle is the most important part. What you're looking for is a sturdy buckle that won't fall apart when your dog pulls on the leash.
Most leather dog collars will have a buckle, rather than a snap that will hold the collar in place as well as to adjust the size of the collar.
When it comes to sizing, the collar should be loose enough for you to be able to slip your finger under it. If your dog is still growing in size, don't forget to regularly check the collar to make sure it's not getting too tight. Also, it's a good idea to take it off periodically to check your dog's neck for skin irritations.
Benefits of Leather Dog Collars
Here are some common benefits of leather dog collars:
Longevity: While leather dog collars may be more expensive initially, they often last much longer than nylon dog collars
Being all natural, leather can be less irritating than other synthetic materials
No snap: Many dogs don't like the loud sound of the a plastic snap buckle right next to their ear
Personalised Custom Leather Collars With Name
Below are some great picks for personalised custom leather collars with name from different states across Australia.
Alice Springs | NT
This beautiful tan leather dog collar is hand-made in Alice Springs with optional personalisation to add your dog's name.
Rosebud | VIC
These colourful leather dog collars with optional personalisation are crated in Victoria.
Perth | WA
Natural veg tanned leather dog collars, cut and coloured by hand. Personalisation available.
Plain Leather Collars
Like it plain? Check out the beautiful plain leather dog collars below.
Murwillumbah | NSW
This pink leather dog collar complete with a gold buckle is made of PU leather.
Geelong | VIC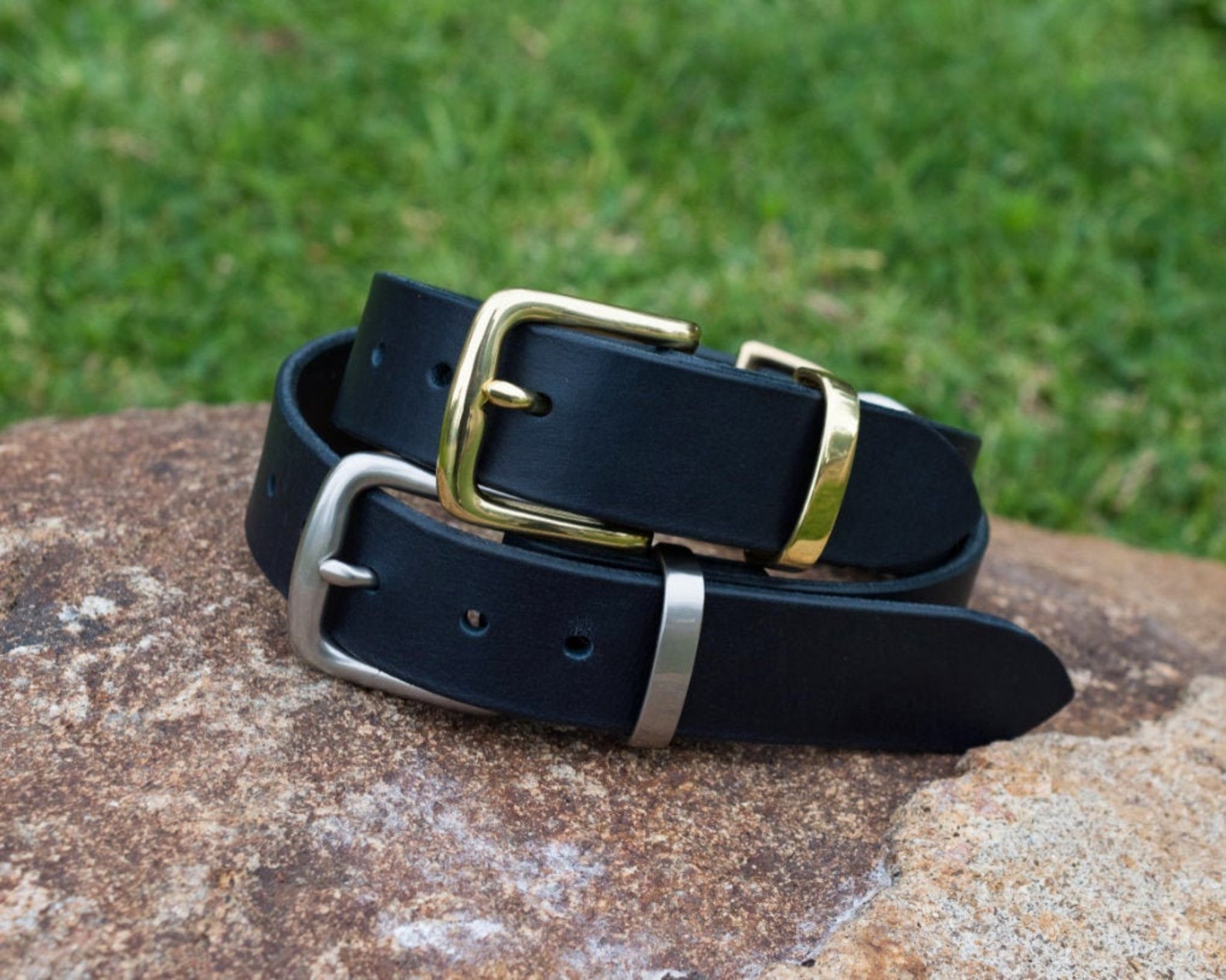 Perfect for every day wear, this navy blue collar is can be paired with brass or matte nickel.
Perth | WA
This brown leather dog collar is made of premium latigo and brindle leather with durable hardware.
Quirky Leather Collars
Are you after something quirky? Below are our three favourite picks to inspire you!
Rosebud | VIC
Luxurious vegetable tanned leather with a coat of freckles!
Hobart | TAS
Painted Leather Dog Collars with unique Animal Print.
Melbourne | VIC
This cute customisable hand-painted leather dog collar comes with a bow tie.
Classic Brown Leather Dog Collars
Like the classic brown? Below are some great choices for brown dog collars!
Woodend | VIC
This premium leather dog collar is designed and built to last.
Geelong | VIC
Full-grain Australian leather with optional personalisation to add your dog's name.
Newman | WA
If you're after a matching set check out this hand-made brown leather collar and leash combo.
Pink Leather Dog Collars
If pink is your colour check out these cute pink leather dog collars.
Perth | WA
Here's a pink leather dog collar that can be customised to include your dog's name.
Sydney | NSW
You can get this beautiful collar and bow combo in pink, dusk pink and rose pink.
Rosebud | VIC
This braided pink leather dog collar is made from luxurious vegetable tanned leather.
Leather Dog Harness
If you're in the market for a leather dog harness, check out these options: