How To Find A Pet-Friendly Airbnb (3+ Tips & Tricks)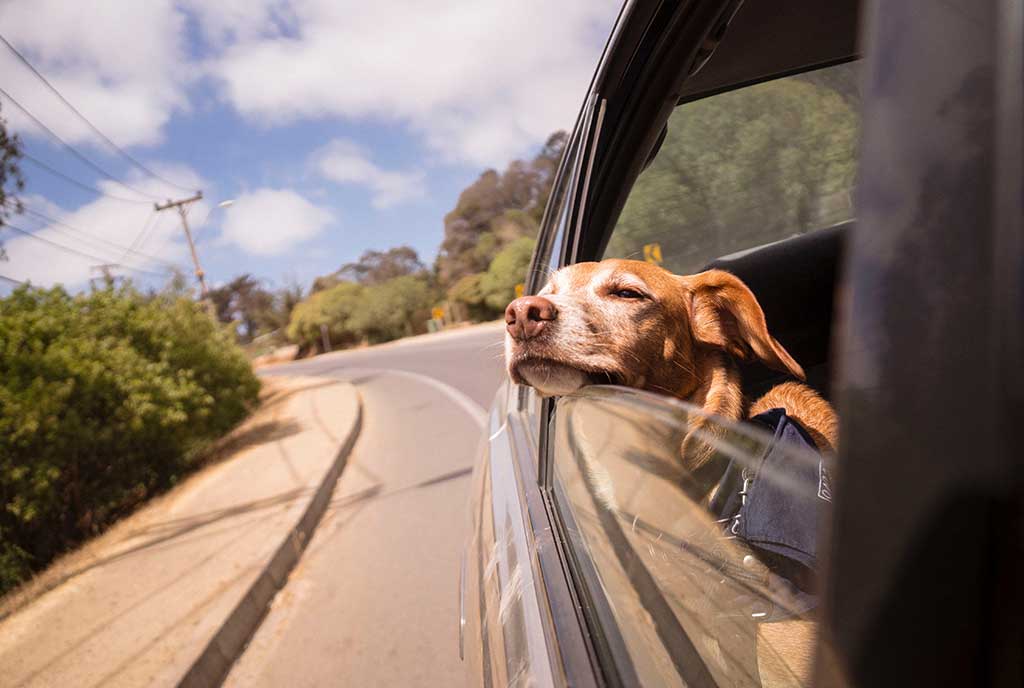 Ignacio Amenábar on Unsplash
Here's the thing about pet-friendly Airbnb's:
While you can filter Airbnb's search results to show only "pet-friendly" listings, in reality there are huge variations in actual dog-friendliness.
In this article, we'll take a closer look into why some places have so many rules about pets, how we can find a pet-friendly Airbnb that suits our needs, and how we can be good guests to make sure that there'll be more options for dog-friendly accommodation in the future.
Table of Contents
Why some places have so many rules about pets
We spoke to several accommodation operators, and some of the stories they told us are unbelievable.
Sadly the minority of irresponsible dog owners can make it difficult for the rest of us.
Also, it appears that the Airbnb insurance doesn't cover any pet-related damage. If a dog ruins something, the accommodation operator is out of pocket, unless the dog owner does the right thing and offers to pay for it.
So, this might explain why there can be such big differences in dog-friendly accommodation on Airbnb.
Always triple-check the house rules
When like a dog-friendly Airbnb, make sure you check the house rules before you book.
And don't forget to click on the "Show more" link, as you often find additional rules there.

Some listings that show up as "pet-friendly" may have house rules that will make the accommodation unsuitable for you.
We typically find that there are 3 common types of listings:
1. The place is fully dog friendly. No rules attached. The operator trusts that you'll do the right thing.
2. The place that suggests they're dog friendly, but your dog is not allowed inside the accommodation. We've even seen a listing once that proudly mentioned that they had a chain for dogs in the outside area… Uhm, hello middle ages?
3. The place suggests that they're dog friendly, but you're not allowed to leave your dog alone. At all times, if you leave the accommodation, you need to take your dog with you.

As you can see, finding a dog-friendly Airbnb in Australia isn't as straight-forward as we may wish it was.
It's absolutely doable, and there are some great places around, but make sure to always triple-check the house rules to make sure you don't end up at a place unsuitable for you.
Imagine you have an indoor dog who grew up always sleeping in your bedroom, and suddenly you find yourself on a holiday where the accommodation provider insists that your dog needs to be on a chain outside. No thanks. (And no offence to outside dog owners who have dogs who are truly happy outdoors. It's just meant to be an example 🙂
How to find a pet-friendly Airbnb in Australia
Here are the individual steps you should take to find a dog-friendly Airbnb in Australia:
1. Tick the "Pets Allowed" box in the search filters
This will show you all listings that allow pets, but keep in mind that some will have special house rules that you need to comply with.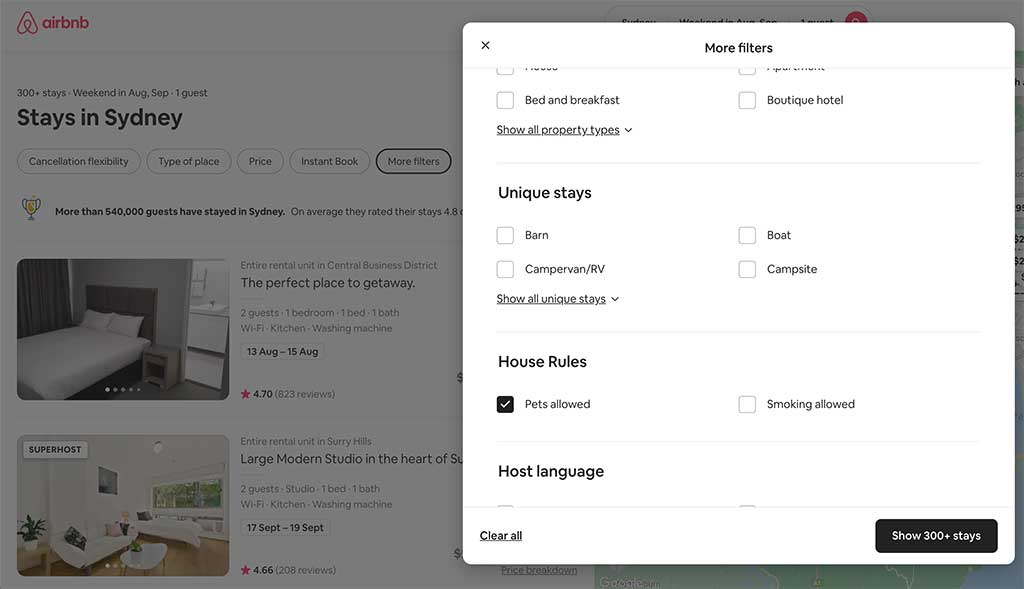 2. Read the entire listing, including the "House Rules"
The house rules will indicate if the Airbnb is suitable for you.
As mentioned above, there may be some listings who are happy to have dogs stay, but only outside. If you have an inside dog, this may not be suitable for you.
Also some listings may not allow for the dog to be in the accommodation without you. If you have activities planned where you can't bring your dog, this may be a problem you'd rather avoid.
3. Message the host before you book
Many Airbnb hosts are emotionally connected to the place they're offering to visitors. They appreciate a short message about your traveling group and purpose of your trip.
Especially if you're traveling with a dog, the Airbnb host can feel relieved if they receive a message from you that confirms you have a well-behaved, house-broken dog (but don't lie if you don't).
4. Consider other booking platforms too
We once struggled to find a dog-friendly Airbnb in a particular area but managed to find a lovely place on booking.com with their pet-friendly filter applied.
So, if you're struggling on Airbnb, consider other options too, like booking.com.
How to be a good guest when travelling with your dog
Lastly, if we're all good guests when travelling with our dogs, we can hopefully count on more dog-friendly accommodation all across Australia.
It's so common for Europeans and Americans to travel with their dogs, let's work towards a future where this will be more common in Australia too!
Here are some ideas about how you can be a good guest when travelling with your dog:
Communicate with the accommodation provider
Message or call them before your trip, and confirm that there won't be any issues if you bring your dog.
Keep the place tidy
For example, if you stay for a longer period of time and your dog sheds a lot, consider vacuuming every other day.
Also, hopefully it goes without saying, but please always pick up after your dog did their business.
Bring a crate or dog bed
So your dog feels more comfortable staying in an unfamiliar place. You could even think about getting a dog backpack, so your pup has all its belongings in one place!
Know your dog
Speak to your vet or a qualified dog trainer before your trip if you're worried there may be any issues with your dog (such as barking or other destructive behaviour).
Travelling with your dog? You might also enjoy these articles: