Best Puppy Play Pens: 5 Types Of Pens To Keep Your Puppy Safe
Ayla Verschueren on Unsplash
If you have a new puppy, it is important to keep them safe when you're not able to watch them. A puppy play pen is the perfect way to do that. In this article, we will recommend 3 different types of pens that are ideal for puppies. We'll also provide some tips on how to choose the right one for your needs. So, whether you're looking for a traditional pen or something more specialised, we have you covered!
Table of Contents
Benefits Of Puppy Pens
We all love puppies but they do get themselves into trouble a lot when we don't monitor them.
That's why many dog parents swear by puppy play pens. They're a safe enclosure that helps to minimise the risk of:
Puppies hurting themselves
Puppies urinating in places where they shouldn't
Puppies chewing on items that they shouldn't be chewing on
Puppies wandering off to somewhere where they shouldn't go to
Children not giving your puppy enough space to rest and sleep
Where To Get A Playpen For Puppies In Australia
You can get a puppy play pen from retail pet shops, online shops, or you can buy one second hand from gumtree or local facebook groups.
Here are the three main types of puppy pens you can get:
Standard Wire Puppy Pens
Soft Puppy Pens
Designer Puppy Play Pens
Standard Wire Puppy Play Pen
Made from rust-resistant and durable powder-coated steel frames
Can be easily configured to suit different areas
Available in different designs and sizes
Soft Fabric Puppy Play Pen
Made from durable high-quality & water-resistant materials
Top can be enclosed to keep adventurous puppies inside the play pen
No assembly required – pops up in a few seconds
Available in different sizes and colours
Designer Puppy Play Pen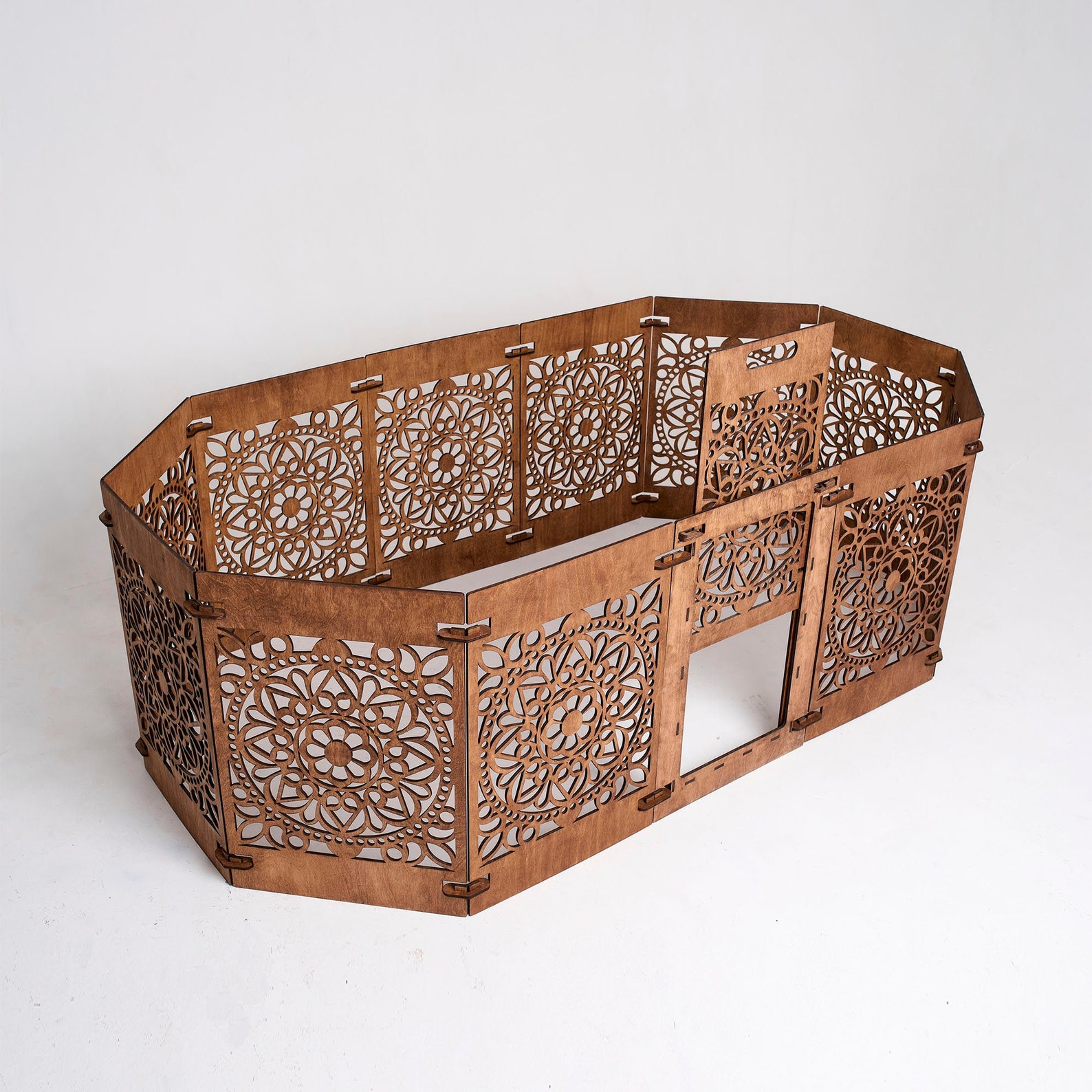 Available in different sizes and colours
Ships from Russia
Are Puppy Pens A Good Idea?
Yes in most circumstances it's a good idea to have a puppy pen.
Many new dog parents underestimate the challenges of raising a puppy.
In that sense, puppies can be compared to human babies – they need time and commitment to grow into healthy adults.
While young, especially when you only just brought a new puppy home, they need a lot of supervision to not get themselves into trouble.
A puppy play pen is a safe area to keep your puppy without having to constantly monitor them.
It can also help with toilet-training, whether you decide to use puppy pee pads or have the time and space to always take your puppy outside when they need to go potty.
Is A Puppy Pen Better Than A Crate?
Ultimately it depends on your dog and personal circumstances, but many dog owners decide to have both – a puppy play pen and a crate. They use them for different purposes, and the crate is often located inside the pen.
With a set-up like this, there's often enough room to set up a toilet area for your puppy with pee pads, an eating area, a play area, and a sleeping area with a dog bed inside the crate.
Puppy Play Pen Ideas: What Goes Into A Puppy Pen?
If your puppy spends a lot of time in their pen, you may want to consider setting up seperate toilet, eating, sleeping, and play areas.
Puppy Pee Pads
Depending on your circumstances, you might decide to use pee pads to toilet train your puppy.
There are many types of puppy pee pads available, and we wrote an entire article on the topic if you're interested to learn more.
In general, you can choose between:
Real grass pee pads,
Artificial grass pads,
Reusable puppy pads, and
Single use pee pads.
Eating Bowls
There are lots of different types of eating bowls you can get for your puppy. From classic stainless steel bowls, to slow-eating bowls, to luxury dog bowls – there's something for everyone.
Puppy Toys
When you set up a play area, make sure the toys you provide are safe for puppies, and always monitor your puppy when they play to prevent accidents. If a toy is broken, remove it to reduce choking hazards.
Because of their growing teeth, chew toys are often highly recommended for puppies – think rope toys and food dispensing rubber toys (Kong has a range with toys specifically for puppies).
Puppy Bed
There are different types of beds you can get to provide your puppy with a dedicated sleeping area.
Depending on the breed of your puppy, you may not want to buy an expensive dog bed straight away, as there's a good chance that your puppy will outgrow it very quickly.
Here are our articles about dog beds: